Vacations are a great way to relax and explore the world, but if you've got pets it can also be an anxious time. It can be difficult for pets to travel long distances, and many hotels and tourist destinations don't allow pets. So if you love traveling, you're going to have to leave your furry bestie at home.
But how do you make sure they're alright while you're away, and what can you do to check in on them? There are a number of things you can do to make sure they're safe. We've put together this guide to help you make sure you and your pet are fully ready and prepared for your vacation.
Choose between pet sitting or boarding.
Before you go on vacation, you need to figure out whether you want to use a pet sitter or a boarding facility. Each one has its own advantages. Pet boarding facilities are a lot like hotels for pets. Your pet can sleep, eat, exercise and even socialize with other animals. You can find them via your veterinarian. They're often aimed toward dog owners, but it is possible to find one for cats, birds and other pets.
However, boarding facilities may not be the best option for everyone. Your pet will be in a new situation that could cause them anxiety. Additionally, it might be easier to get them a pet sitter to keep them at home if they have unique medical needs. Pet sitters can pop over to your home a couple times a day and give your pet unique, personalized care. They can play with them, feed them, walk them and then leave.
Of course, choosing between a pet sitter or a boarding facility depends on your pet. Your dog could be better off at a boarding facility, especially if they're friendly. If you've got a cat, however, it might be easier to keep them at home with a pet sitter. If you've got another kind of pet, like a fish or reptile, pet sitting might also be a better option.
You won't have to worry as much while you're away with a boarding facility. Boarding facilities are designed to take care of animals while they're owners are away, after all. If you choose pet sitting, you'll need to also make sure your home is prepped and ready to go while you're away.
Pet Safety Tips
Making your home safe for your pet while you're away isn't difficult, but it does take some preparation. Here are a handful things you can do to make sure your pet is properly cared for when you're away.
Update your pet ID tags.
The worst fear of anyone with a pet is that the pet runs away or gets lost while they're away. Unfortunately, you can't always plan for the worst and there's always the risk of your pet getting out. The one thing you can do is to make sure your pet's ID tags are updated with the most recent information.
You could even go a step further, and get custom pet ID tags that let the world know how to contact you while you're on vacation. You could also include the contact information for your pet sitter or a close friend or neighbor that could act as the main point of contact while you're away.
Leave detailed care instructions.
You don't want to wonder whether the pet sitter knows how much food Fluffy needs. You also don't want to wonder whether they got the right amount of medication. To eliminate all doubt, it's important to leave detailed care instructions for your pet. When do they like to go to the bathroom? How do they best take their medicine? When do they sleep? Where do you keep the snacks? How much water does Mr. Buttercup drink?
<p?The more detail you include the better, for both the pet sitter and yourself. Your pet sitter won't have to wonder about what to do and how to do it, and you'll have some more peace of mind. Most importantly, your pet's routine won't be interrupted, which means that it won't suffer any unnecessary anxiety.
Explain your pet's quirks.
Not all pets are the same. Each pet has unique characteristics that help make them an important part of our families. You may fully understand that Spot loves to chase the UPS guy or that Mike McKitty likes to knock over your glass of water every so often, but your pet sitter or neighbor might not. It's a good idea to compile these quirks into a list that you can give your sitter.
This way your pet sitter, friend or neighbor won't be surprised when something happens – and they won't call you in a panic. It'll also help them in some possibly stressful situations. For example, maybe your dog gets more aggressive on the leash, or likes to jump and lick people in excitement. If you let your pet sitter know, then they can take preventive measures so there isn't an incident.
Leave small comforts.
You're going to be away from your pet for a while, so anything you can do to make that separation a little easier is something you should do. For example, you may want to put an old t-shirt where your dog sleeps, just so they can get your scent while they're relaxing.
Maybe your cat likes to cuddle up near the foot of your bed at night while you're sleeping. If so, you can fill your bed with some of your clothes to simulate someone being in bed. This way, your pet can get some hint of you while you're away. These small actions can go a long way to reducing potential anxiety for your pet.
Pet proof your home.
While you're home, it's easy to make sure your pet doesn't destroy your home. When you're away, things can be much different. You're going to want to go around your home and take stock of the things that could be dangers. Make sure your electrical wires are covered, especially if your dog is prone to chewing things.
Make sure to put away sharp objects or cleaning products that could harm or poison your pet, too. If you're away in the summer, when your home could get uncomfortably hot, make sure that your air conditioning is on so that your pet can be comfortable. Make sure your windows and doors are locked so that they can't get out, and no one can't get in. Just make sure your home is as safe as possible for your pet.
Read: Top 9 things to look for in a pet camera
Find someone reliable and trustworthy.
Whether you're hiring a pet sitter or recruiting a friend or family member, make sure you find someone who is both reliable and trust worthy. Consult with groups like the National Association of Professional Pet Sitters, or ask friends and neighbors who have used pet sitters. If you're relying on a friend or family member, make sure their schedule is free and that they like animals.
Once you select your person, try to schedule some time for them to meet your beloved pet. This way they'll build some comfort with each other so that when you're gone, things won't be awkward for either of them. You don't want your pet to be uncomfortable with the person that's in charge of feeding and taking care of them.
Keep things as normal as possible.
When it's time so say good bye, it can be tempting to make it big and emotional. Don't. This will increase your pet's anxiety, as they'll understand something big is happening. Instead, treat it like any other day. Say bye as you do when you're headed off to work or to the market. Pretend you'll come back at the end of the day, so that your pet has the confidence that things will return to normal at some point soon.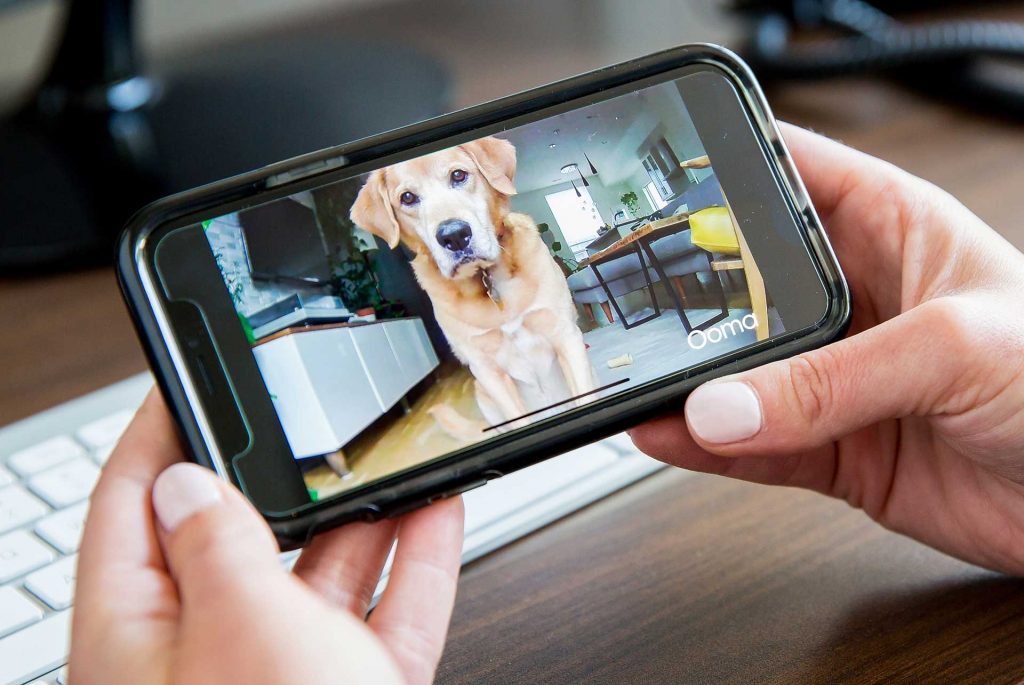 How to check in on your furry friend.
Once you've set things up for your furry friend, you're going to need to find ways to check in to make sure things are going okay while you're away. Thanks to modern smart home technology, that's easier than ever to do.
Get a home security system.
Smart home security systems can be an important way of protecting your home, but they can also be used to make sure your home is good for your pet. Many security systems come with water leak sensors, carbon monoxide sensors and smoke detectors. These sensors can make sure that your home is safe for your pet to be in while you're away. If any of these sensors trigger, you can immediately call first responders to act. Some security systems will automatically alert first responders without you having to worry, too.
Use smart cameras.
Yes, you can rely on your pet sitter to tell you how things are going, but it's even better to see it for yourself. Smart cameras are already used as nanny cams, so they naturally make great ways to check in with your pets. There are a couple features you need to keep an eye out for when you're looking for a pet cam.
These features include facial recognition, so that it can tell you when your pet has been detected. This will let you quickly check in to see what they're doing. Some smart cameras also feature two-way talk, which will let you talk to your pet through your camera. Plus, they can be used to learn when your pet sitter is taking care of your pet.
Some cameras not only have facial recognition for pets, but can also link up to a home security system to give you the full picture of your home while you're away. So not only can you make sure things are safe, you can talk to your pet via the camera, check footage to make sure they're doing okay and keep an eye on the pet sitter at the same time.