DIY vs Monitored Security Systems
For a long time the only way to protect your home was turning to a professionally monitored security service like ADT. You'd have to sign a contract and wait for a pro to come to your home to install a security system. It took a lot of time and got very expensive.
It's much easier nowadays thanks to the increasing availability of Do-It-Yourself security systems. These systems are modular and easy to install, but are they better than the monitored security systems we're used to? We've put together this guide to help you decide which is the best for you.
DIY Advantages
DIY security systems let you mix and match what sensors and devices you need to protect your home. They often balance security and flexibility, but they can be just as effective as monitored systems. They too can include security cameras, motion sensors, smoke detectors, water sensors, entry sensors and sirens. Mobile app support also gives you added convenience, letting you arm and disarm your system remotely.
Price
Price is one of the biggest advantages of DIY security systems. Monitored security systems tend to come with a lot of fees. You often have to pay installation fees and lease equipment. Plus, you'll need to subscribe to a monthly professional monitoring plan, since a team of people will monitor your home for you. DIY systems are cheaper because most of the cost is upfront. You buy the security hardware once and can install it yourself. While they also have security plans, they're often cheaper due to a lack of professional monitoring.
Flexibility
DIY are modular systems that are designed to scale up or down based on your needs. There are sensors for everything. You can get as many smoke detectors, water sensors, motion detectors and entry sensors as you need. It's also easy to adjust your system when life changes. So if your system is built for a one-bedroom apartment and you move into a three-bedroom house, it's simple to add on more equipment to protect your new home without hassle.
Easy Installation
It's in the name. DIY systems are built for you to do it yourself. You don't have to worry about scheduling installation and all the headaches that surround it. You can put everything together yourself, no tools required. Being easy to install also means it's easy to reinstall. So if you move you won't have to worry about getting a pro to take apart your security system and put it back together again in your new home.
Read Wired vs Wireless Security Systems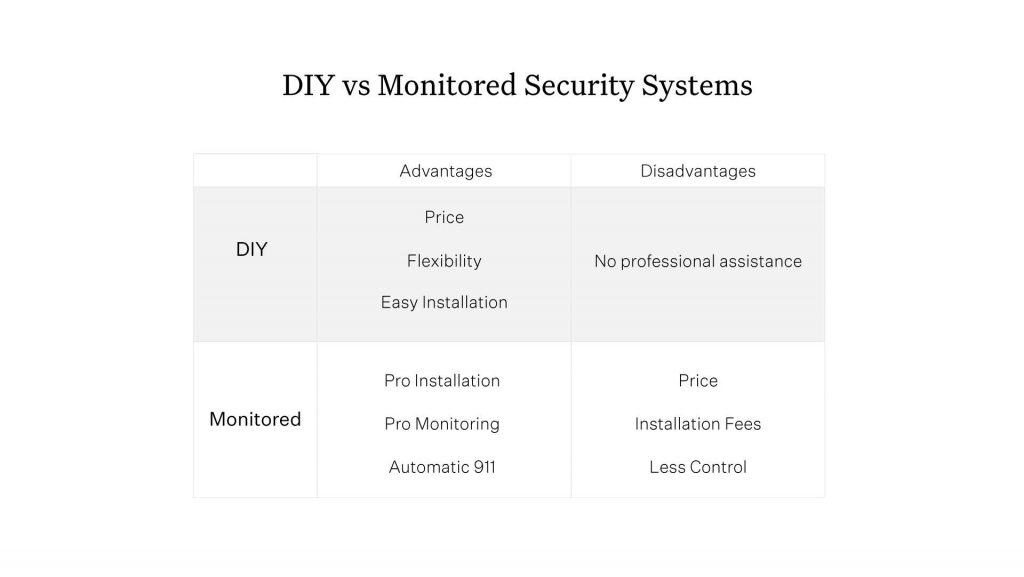 Monitored Advantages
Monitored security systems are more traditional. They require installation and vast resources to power monitoring centers. This often makes them more expensive and less flexible than DIY systems. However, they offer professional services that can better protect your home should you have the money.
Pro Installation
Monitored security systems rely on more advanced hardware that needs to be installed in your home. This installation can be difficult for a lot of people, so monitored systems will send a professional to come to your home to install your sensors. Instead of doing everything yourself, you can sit back and relax while someone else does all the hard work for you.
Pro Monitoring
Your DIY system can monitor your home with the help of a mobile app, letting you know what's going on in your home at all times. However, professional services take this to another level. There's a team of people sitting in a center monitoring your home, and when something happens they'll take action. These agents will call you to make sure you're okay, and do whatever they can to make sure your home is protected.
Automatic 911
One of the benefits of a monitored system is that they're directly tied into your local police and fire stations. When an alarm goes off in your home, the police and fire departments are automatically notified and first responders will be dispatched to you. This way you won't have to do a thing if someone tries to break into your home. Many DIY systems allow you to call 911, but you'll have to do it yourself.
Choosing Your Security System
Which type of security system is right for you? That depends on what you want from a security system. If you want the most security possible, and money is not an issue, then going with a big monitoring service may be right choice for you.
However, most people will be fine with a DIY system. They're much more affordable than monitored systems, which means they're within the budgets of many more people. Their flexibility also allows them to be used in more places, like apartments. Ooma's smart wireless home security system is one of the few DIY home security systems that is both easy to use and affordable.
You can use Ooma's Build Your Own System tool to come up with your own personalized security system. The tool lets you create a bundle that's perfect for something as humble as a studio to something as large as a multi-bedroom home. Ooma Home Security also offers a wealth of sensors to protect your home. You can choose to use as many window and door sensors, water sensors, motion sensors or sirens as you want.
Best of all, Ooma's monitoring plan is free. You'll get real-time monitoring via the Ooma home security mobile app. There are also Home, Away, Night and Vacation modes for Ooma Home Security, which give you the flexibility of arming your home based on your circumstance. Ooma also offers the upgraded Secure Plan, which gives you added perks like remote 911 calling, Automatic Arm & Disarm and a remote siren for just $5.99 per month. Ooma's Basic and Premier Service members get the Secure Plan for $4.99 and $3.99 per month, respectively.
Thank you!
By subscribing to Ooma's Residential Blog, you can expect to receive insightful emails about latest updates, helpful tips, and useful tricks.
Call us at: 866-573-0707 for any other inquiries
Unlock the full potential of your Ooma experience: Tips and Insights from the Ooma Residential Blog