A wonderfully wireless phone extension for your Ooma Telo.
New Customers
Telo + Linx
The Ooma Telo and Linx together is the easiest way to connect additional phones or fax machines throughout your home.
Risk-free 30-day return
Total Price: $149.98
Buy Now
Returning Customers
Ooma Linx
The Ooma Linx allows you to wirelessly connect additional telephones or fax machines to your Ooma Telo. Ooma Linx uses DECT 6.0 technology. Connect up to 4 Ooma Linx devices to your Ooma Telo.
Risk-free 30-day return
$49.99
Buy Now
Use with your main number, or dedicate a separate number for a home office. Our easy setup will have you calling in minutes.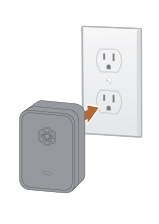 Step 1
Plug the Linx device into a power outlet that's close to your Ooma Telo.
Step 2
Press the Page key on your Ooma Telo and hold it down for 3 seconds. The Linx device will turn blue.
Step 3
Plug your device into the phone jack at the bottom of the Linx.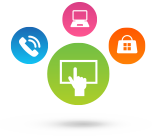 Stay Connected
Get the latest updates & product offers from Ooma.