For many seniors, it's challenging to find utilities that are low in cost, easy to use, and offer a comfortable level of technology.
Ooma Telo is a residential voice over internet (VoIP) phone service that's an effective landline phone replacement for seniors. As you'll find out in this senior's guide to VoIP phones, it meets the trifecta of being affordable, easy to use, and manageable by a savvy senior or remotely by a family member.
What Is a VoIP Phone?
VoIP, which stands for Voice over Internet Protocol, transmits phone calls securely over your internet connection rather than via traditional copper telephone lines.
While residential VoIP services differ in their offerings, a standout aspect of Ooma Telo is that users can have a traditional home phone experience, just like a landline. There are no high-tech protocols or unruly gadgetry. Users looking for a landline replacement will have a seamless transition, simply using their existing home phones and placing calls as they usually would.
Benefits of VoIP
The VoIP technology working behind the scenes provides significant advantages over traditional home phone services.
Features: Traditional phone providers typically charge extra fees for individual add-ons such as caller ID or call waiting. Ooma Telo provides all customers with a robust set of features that adds up to powerful phone service at no extra cost.
Use your existing phone: Ooma Telo works with your existing wall phone, desk phone, or cordless phone. When you're ready to add additional functionality, you can upgrade to the Ooma HD3 Handset, an IP phone with HD audio, picture caller ID, and more.
Alternative to the deteriorating phone network: If you live in one of the 20+ states where phone line maintenance is no longer required, you may experience call quality decline and service lapses. VoIP phones are a smart alternative, relying upon the newer internet-utility infrastructure.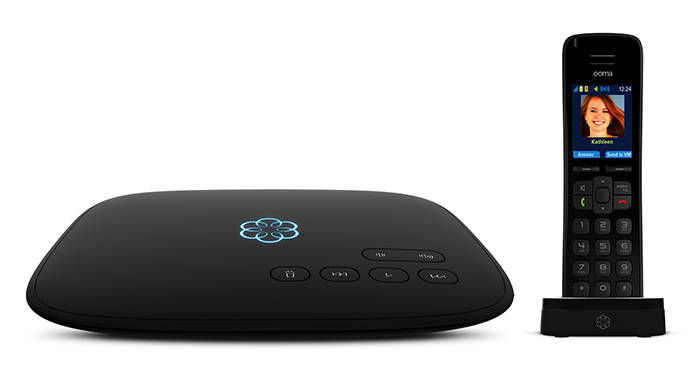 How Much Does It Cost?
Getting started with Ooma Telo phone service begins with an upfront hardware purchase of $99.99. This device provides customers with telephone call quality that far exceeds the competition at low monthly rates that can add up to big savings.
Ooma offers two levels of phone service. Ooma home phone service is the ultimate low-cost calling plan, costing an average of $4 to $7 per month in taxes and fees depending on your postal code. Unlimited U.S. calling as well as a wide set of calling features are included.
Customers looking for additional features can subscribe to Ooma Premier for just $9.99 per month plus required taxes. This service plan adds unlimited calls to Canada, Mexico, and Puerto Rico as well as features such as Instant Second Line, three-way calling, custom ring patterns, voicemail tools, and smart home integrations.
Especially useful for seniors who are often targeted by telemarketing scams, Ooma Premier offers a comprehensive set of call-blocking tools to fight back against robocallers.
How Much Can You Save?
When we compared Ooma Basic to traditional landlines and cell phones, the cost comparison reveals that even after the hardware purchase, Ooma customers are saving money.
In the first year, customers that switch from a traditional landline to Ooma Telo can save an average of 73 percent, or about $395. In subsequent years, when no hardware purchase is required, average savings are 91 percent off landline rates.
When comparing Ooma Telo to cell phone service, customers can see an average of 88 percent savings in the first year, which is more than $1,000. Again, in subsequent years, savings rates would increase even more.
You can find out how much you'd save by using our phone savings calculator.
Keep Your Phone Number
In addition to Ooma's many home phone features, seniors will appreciate the ability to keep their phone number after switching phone service providers. This is useful for the practical reasons of not wanting to notify contacts, a senior's concerns about memory lapses, or the sentimentality of having had the same phone number for decades.
Included with an annual subscription to Ooma Premier is free number porting, which allows you to transfer most phone numbers to Ooma. Without a subscription, porting a phone number costs $39.99.
Porting is a one-time occurrence and doesn't incur fees in future years. Use Ooma's phone number checker to see if your number can be transferred.
Advanced 911 for Emergencies
A key consideration for seniors is access to emergency services. While landlines provide a reliable way to call 911, emergency calls from mobile phones can be problematic.
Across the country, emergency systems face challenges when geolocating cell phone callers with failure rates as high as 90 percent in Washington D.C. and 66 percent in Texas. However, in the Ooma report on 911 access, we found that the majority of people are unaware of these limitations.
Ooma provides a smart solution with advanced 911 service so users have essential communication features during an emergency. With Ooma, a 911 call will automatically be routed to your local dispatcher, rather than to a national call center. Additionally, the registered home address will automatically be transmitted to the dispatcher so the location of the emergency will be known, even if the caller is unable to speak.
"I've been a tech person for a very long time, but I was hesitant to give up my landline," said James, who switched to Ooma because of its 911 tools. "The day happened that I needed emergency services, and Ooma was right there. It may have saved a life. Thank you for having a great E911 system and great service."
Ooma phones integrate with both Amazon Alexa and Google Home, so seniors can make hands-free 911 calls by simply saying, "I've fallen. Alexa, call 911." Depending upon your tech setup, you may need an Amazon Echo Connect to accommodate this functionality.
Ooma's 911 tools can also keep family in the loop with 911 alerts. This function immediately sends a text message to your cell phone if 911 has been dialed from an Ooma phone. Whether there's a problem or it's a false alarm, the 911 alerts feature lets you respond accordingly.
Protect Against Utility Outages
Some critics may caution against seniors switching to VoIP phone services because its functionality is dependent upon your electric and internet services, meaning that a power or internet outage could also result in a phone outage. Ooma can mitigate these risks.
The Ooma Connect 4G can transmit a phone call via Sprint's nationwide 4G LTE network. Therefore, if your internet service goes out, the device will automatically reroute calls from your traditional internet connection to a cellular one. This provides seamless connectivity to make and receive calls without needing to manually switch the connection type.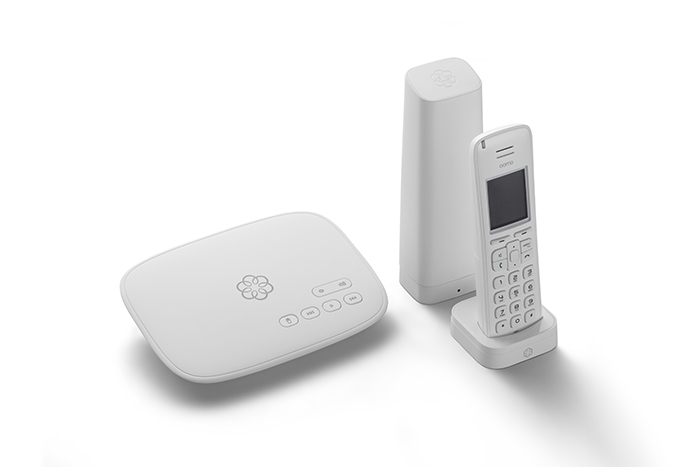 For electricity outages, the Ooma Telo Battery Backup keeps your system powered up even when the lights go off. If your Ooma Telo stops receiving power from the electrical outlet, it'll automatically switch to run off the battery. Once power is restored, the Telo will switch back to the traditional power supply and re-charge the battery.
Smart Home for Safety
Smart home technology is expanding to eldercare, as explained in a WSJ audio podcast. For example, consider how a family member may want to monitor a loved one remotely with smart home security sensors.
An advantage of Ooma Telo is that the VoIP phone service can also integrate with the Ooma Smart Security platform. While many households use the home security network to monitor their own house, it can also be used to monitor a family member's house remotely via a mobile device. Available security sensors include door/window sensors, motion sensors, a garage door sensor, water sensors, and a siren.
Getting Started Is Easy
Getting started with Ooma residential telephone service is easy. The Ooma Telo hardware is risk-free with 30-day returns, and users tell us that it only takes about 20 minutes to set up. Additional system configuration can even be done remotely by a savvy relative via the My Ooma portal.
Ooma Telo is a great landline alternative, helping seniors spend less for phone service while also providing additional features, advanced 911 service, and connectivity tools for family members.
Learn more about Ooma Telo phone service, and about how it ranked in Consumer Reports.