Ooma's Dmitry Maslov explains how he and his team take customer feedback to heart
It was New Year's Eve 2007 and Ooma product manager Dmitry Maslov was trying to wrap up his university semester. His best friend had come to him with a brand-new device. They were both computer science majors who loved to play with the latest and greatest. The device his friend brought him blew him away. It was the original iPhone.
"I remember how impressed both of us were," Dmitry said "You could touch an element and it would follow your finger in a much better way that wasn't possible on any other device at the time. And all those applications were so smooth and just so next level."
Dmitry and his friend knew they wanted to be in the smartphone world, so they started a niche blog where they would review iPhone apps. At the time, only 20 to 30 apps would be published a day so Dmitry would go through the App Store and look at the new app releases daily. If the app was free, he would download and explore it.
"I would kind of explore and see what people were creating, what kind of experiences were working better than others and I would start noticing some patterns," Dmitry said. "I was addicted and it became my hobby and it's still my hobby to this day."
Reviewing all the apps gave Dmitry some background on good and bad ways to solve user problems, so he started reaching out to developers to give them feedback. He would point out what he thought wasn't working and shared ways other apps solved similar problems.
After spending some time in the world of startups, Dmitry wanted more stability and came to Ooma, where he's been for the past six years and is currently Lead Product Manager.
Collaborating with customers
Ooma has six mobile apps and Dmitry's team is responsible for overseeing all of them. They have regular brainstorming sessions to discuss new features and other engineering things. Those sessions birth new ideas and features, but Dmitry and his team often turn to Ooma customers and their insights to help prioritize which ones to work on next.
"Over the years I was able to turn the focus from internal to external outreach and there's a great amount of insights, information and signals from our customers," he said.
In the Ooma Office mobile app , users can see what features are being considered and can vote on what they want. They can also make suggestions or share problems they're having. The Ooma customers can then confirm and back up certain ideas.
"That's a great help because it helps us see 'oh you know hundreds and hundreds of people are interested in this' and it's the best validation we can get," he said. For example, the recent Pin a Thread feature was inspired by the feedback of users from the app, Dmitry said.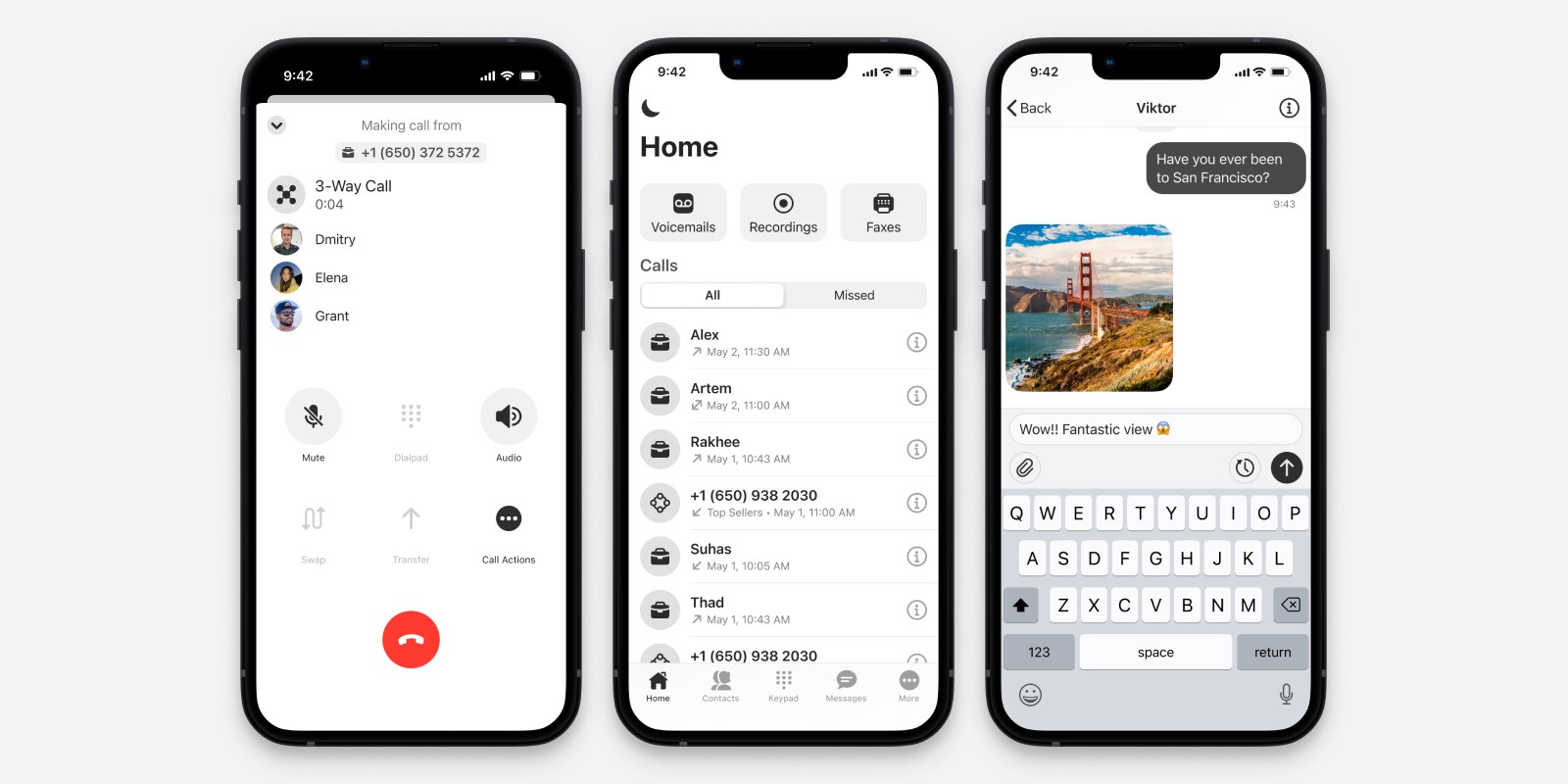 It's an idea that harkens back to Dmitry own beginnings, where he provided external suggestions and criticism for apps he used. As someone who takes the time to share his insights with others, Dmitry appreciates customers who do the same with Ooma's apps.
"There is only one percent of customers and users who go out of their way to share their feedback, but these are some of my favorite people. Those customers and end users are so involved and care so much about the products that they're willing to spend their own time. I absolutely love engaging with them," he said.
Dmitry says it can be hard to hear criticisms and pain points, but that it's great to learn how to improve Ooma's products. When time allows, Dmitry jumps on calls with customers who have provided feedback to get more information and learn their stories, whether it be personal stories or about their businesses. Even if he can't hop on a call with everyone, Dmitry and his team strive to read every piece of feedback they receive.
Dmitry's feature recommendation
Is there any feature Dmitry recommends to Ooma users that they might not know about? Yep! It's the Ooma Office iPhone widget, which allows users to quickly access their dial pad, voicemail and recent calls with a single tap, without opening the app.
Dmitry's message to Ooma users
Dmitry and his team genuinely care about the experience Ooma customers are getting, and, in particular, they have a great respect for the small business users who choose Ooma Office as their business phone system.
"The team and I personally have a great respect for all those entrepreneurs and small business owners who have the courage to pursue new ventures in the challenging times that we have today. "They could take a job and work for someone else on an easier path but they choose to take more responsibility and a harder path. They're the ones who are changing the economy and it's a pleasure and joy to create tools to help people who are changing the country and world for the better."
Ooma's got your back
Whether you're looking for a home phone to keep you connected or an affordable business phone system to help serve your own customers better, Ooma's got your back.
If you're an Ooma Office user and would like to vote on our next features or provide feedback, you can do so directly in the Ooma Office mobile app. If you're not an Ooma user but would like to learn more about what Ooma can do for you, take our quiz below.