Complete guide to hosted phone systems 2023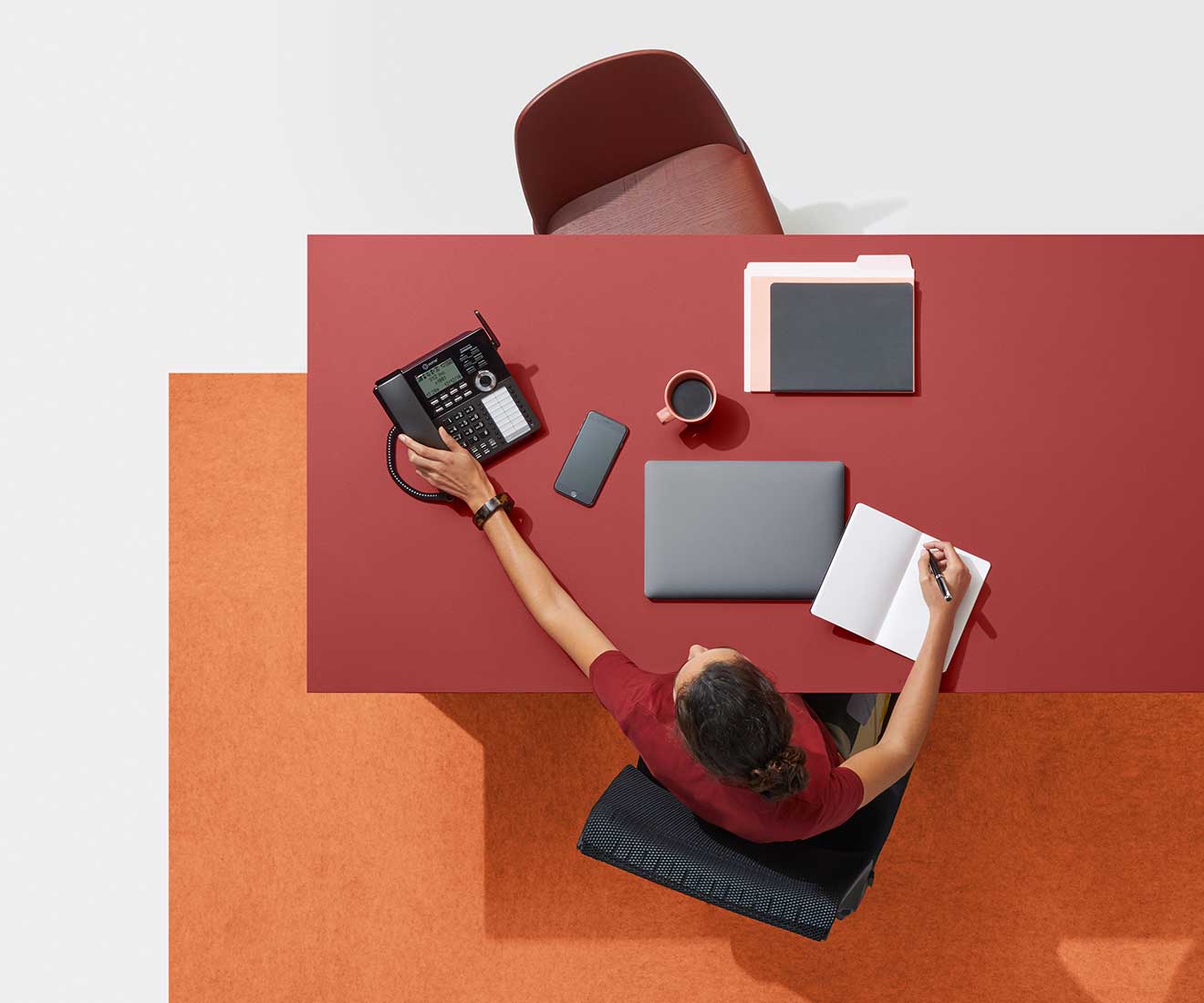 Are you still using a traditional business phone system? If the answer is yes, you might be missing out on an easier and more cost-effective way of running your business phone service.
Hosted phone systems have been the system of choice for countless big and small businesses these past few years and rightfully so. Also referred to as a cloud phone system, cloud PBX, virtual PBX or hosted PBX, a hosted phone system takes the hassle out of managing an on-site phone system by delegating that responsibility to a third-party provider.
In this guide, we're going to break down the basics of a hosted phone system, how it works, what it can do and the benefits it offers for businesses. But first things first, let's talk about what a hosted phone system actually is.
1.
What is a hosted phone system?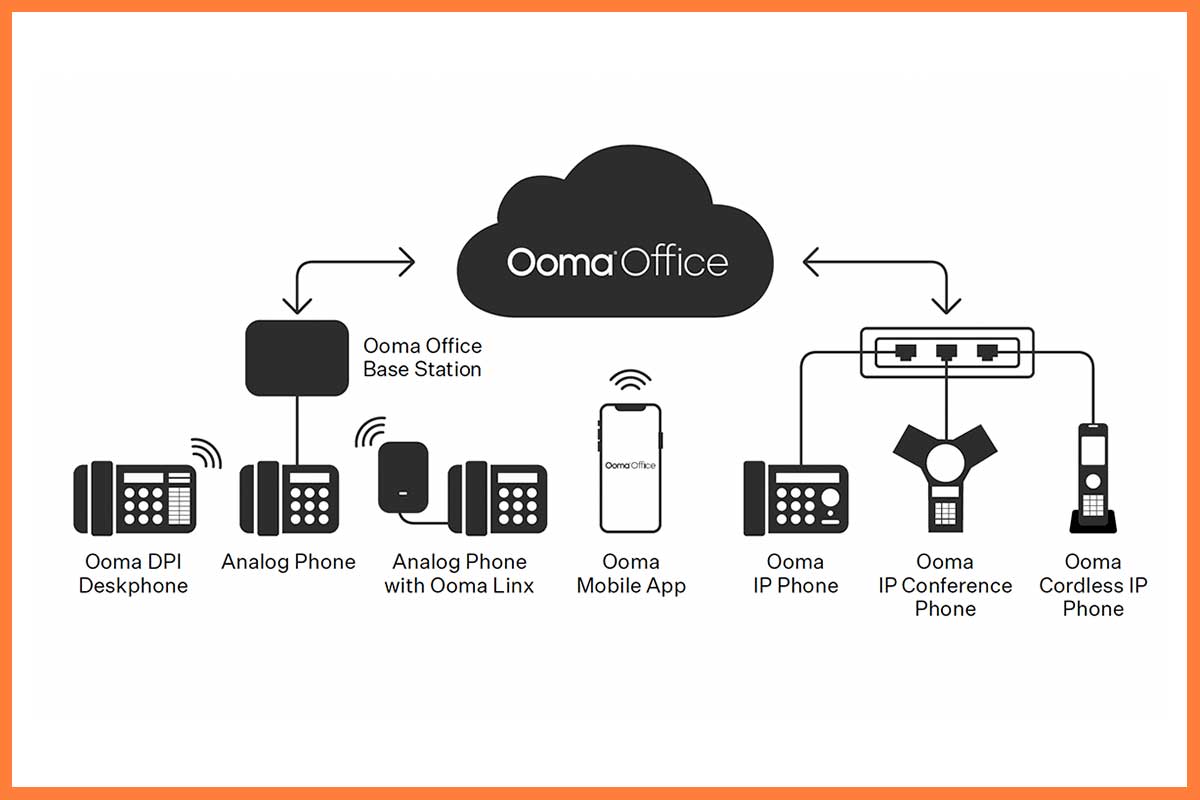 A hosted phone system is operated digitally on the internet, and managed and maintained offsite by a third-party phone service provider. It exists as a modern alternative to on-premise phone systems, in which the system and all of its hardware are installed onsite and managed by the business itself.
With a hosted phone system, a vendor uses cloud technology and Voice over Internet Protocol (VoIP) to deliver telecommunication services on-demand, typically for a monthly fee.
This is similar to how you might pay Google a subscription fee for extra cloud storage. By paying for this service, you eliminate the cost and hassle of storing everything on physical hard drives and enjoy the convenience of being able to access your files on any device with internet access.
Quick explainer: The cloud refers to the network of global servers that one accesses over the internet. A server is the computing hardware or software that processes requests from other devices.
In the case of hosted phone systems, the technology that powers your phone system is what exists in the cloud. As a result, no onsite hardware – other than endpoint devices such as phones and fax machines – is needed. On top of that, the use of VoIP technology, which makes phone calls over the internet possible, eliminates the need for this phone system to be connected to old-school landlines.
2.
How does a hosted phone solution work?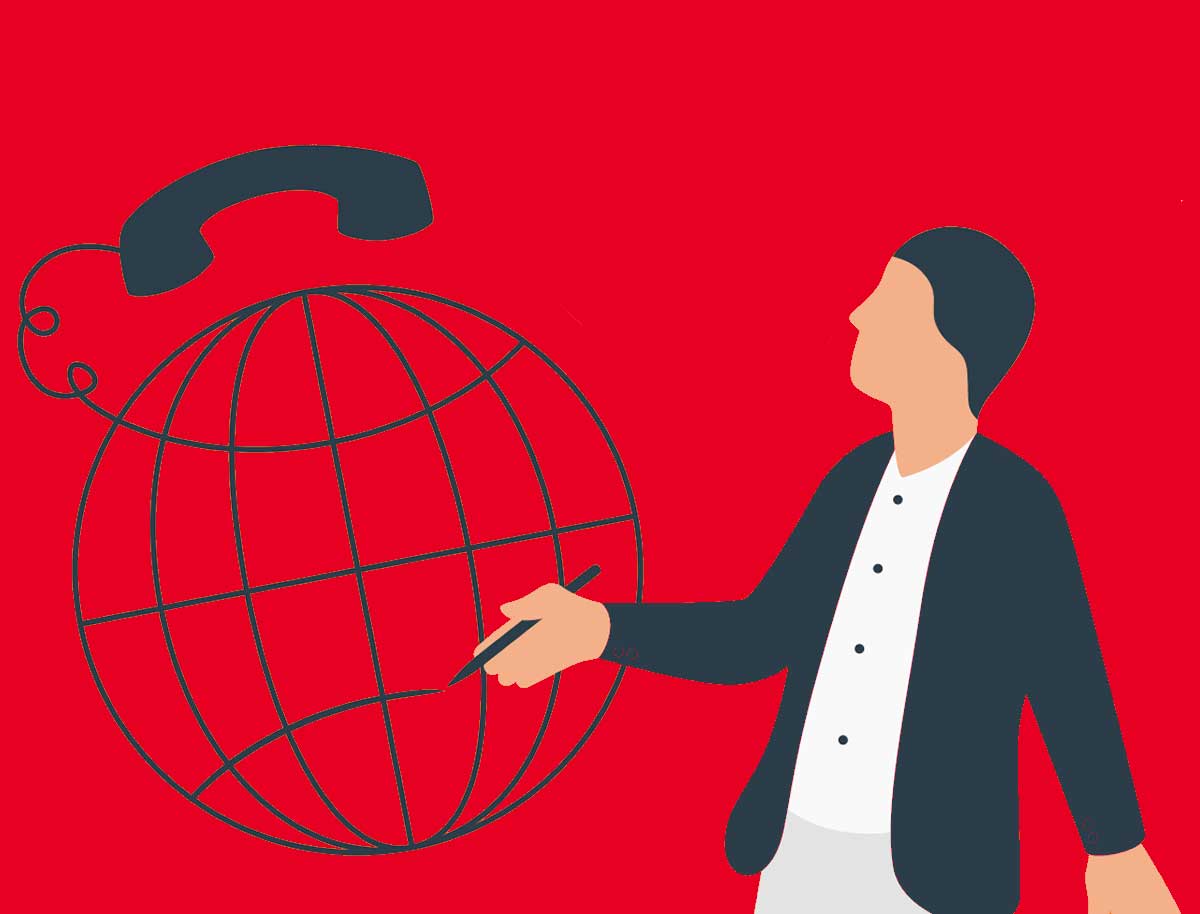 Unlike traditional phone systems, cloud-based phone systems require very little upfront investment. The main requirements are a stable internet connection and VoIP equipment that may include:
VoIP-Enabled Devices (includes smartphones, computers, desk phones, etc.)
Ethernet cable
VoIP router
Analog Telephone Adapter (ATA)
VoIP gateway
Uninterruptible Power Supply (UPS)
Which pieces your specific business needs will depend on who your system provider is, as well as what equipment you already have. There's even a chance you won't have to purchase any additional hardware at all.
Once the necessary equipment is in place and your service is set up, cloud phone system will connect through the internet. Here's a step-by-step of how a call generally works:
A user makes a call from their IP phone.
The device converts the audio input into digital packets.
Those digital packets are sent through the internet to the VoIP phone system hosted by the service provider in the cloud.
The phone system routes the call through the internet to its intended destination.
The digital packets are converted to the destination format in order for the recipient to hear the audio.
The call is delivered!
Businesses with an existing on-premise phone system can also take advantage of internet-based communication through SIP trunking, a service that virtually connects your traditional phone system to the internet and makes unlimited, VoIP communication possible.
3.
Do I need a PBX for VoIP?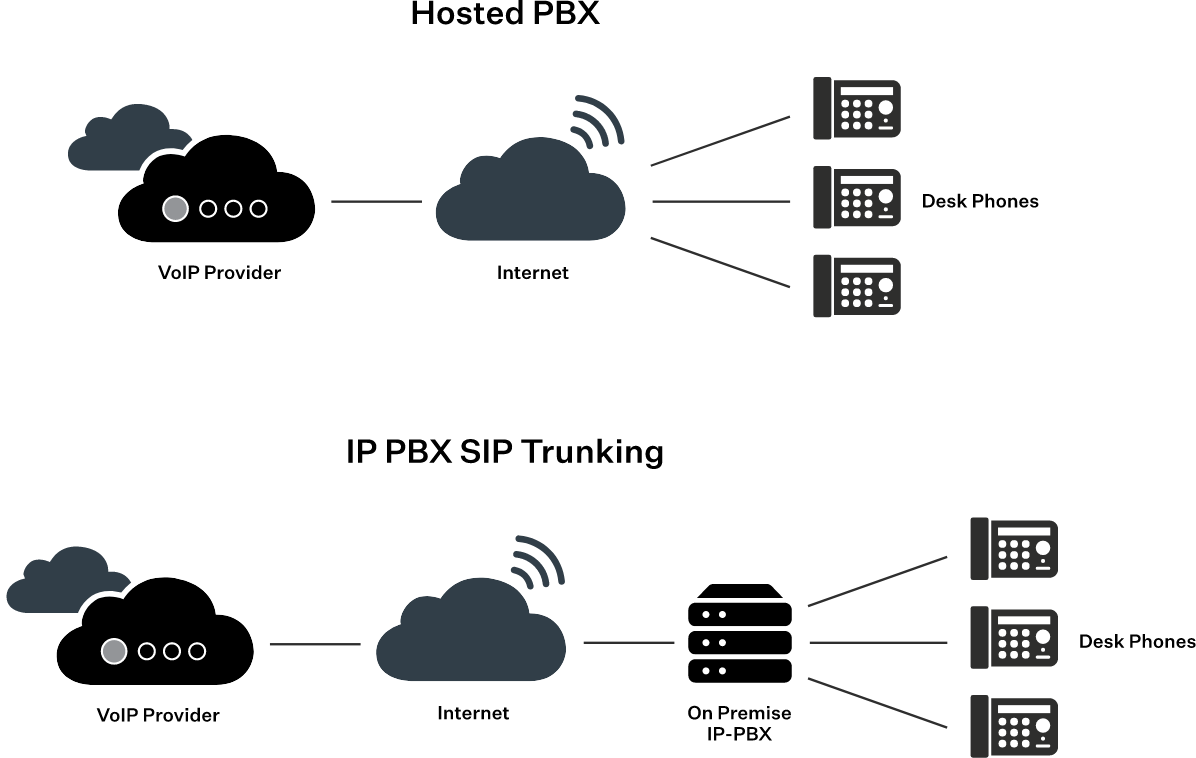 The quick answer? No, you don't need a PBX for VoIP.
A VoIP system can operate independently without a PBX and vice versa. At the same time, a phone system can be called a "VoIP PBX." Here's a breakdown of what it all means.
Put simply, the terms PBX and VoIP are different descriptors for a phone system.
A PBX (Private Branch Exchange) system refers to a business phone system that has its own private network in which users can communicate both internally (to others within the network) and externally (to those outside of the organization). For instance, a business with one phone line for external calls that can be used to reach different employees internally through extensions has a PBX.
"PBX" and "phone system" are often used interchangeably since a PBX is a popular type of phone system among big companies. This is why the terms like "hosted PBX system," "virtual PBX system" or "virtual private branch exchange" are also used in discussions of hosted phone systems. In some cases, "PBX" can also refer to the actual hardware and software that makes the PBX system possible.
On the other hand, a VoIP system is any phone system that uses Voice over Internet Protocol (VoIP) technology, which allows calls to be transmitted through the internet rather than traditional public telephone lines.
In other words, VoIP is an upgraded and modern alternative to the traditional way of making phone calls, which was through the old-school landlines known as the Plain Old Telephone Service (POTS) and the Public Switched Telephone Network (PSTN).
At the end of the day, "PBX" and "VoIP" describe different aspects of a phone system. A hosted phone system, for instance, will almost always be a VoIP PBX.
Calculate your savings
See how much you can save with Ooma hosted phone systems by entering your current phone bill.
Go to Savings Calculator
4.
Hosted business phone system features
Hosted business phone systems can offer a plethora of advanced features unavailable with traditional phone systems. Here are some of the top features you should look for:
Mobile and desktop apps
Many hosted VoIP solutions have mobile and desktop apps that make it possible to stay connected anywhere, from any device.
Within minutes of downloading your provider's app onto your laptop, desktop, tablet or cell phone, your device is ready to make and receive audio and video calls. Most apps also give you access to other helpful features offered by your hosted phone solution, such as call activity tracking, voicemail management and instant messaging.
Call forwarding
Call forwarding allows you to forward an incoming call to one or several alternative numbers when the first number dialed is unavailable. This feature is great for boosting customer satisfaction by ensuring that they're quickly connected to the next available team member.
Call routing
The customer experience can also be improved with call routing, which routes phone calls to specific numbers based on a set of predetermined rules. The main goal here is to ensure that calls are addressed and resolved quickly, without the customer having to go through several random agents before talking to someone who can actually help.
Virtual receptionist / auto attendant
A virtual receptionist or auto attendant is an automated answering system that manages your incoming phone calls. The feature allows your business to deliver greetings, provide information, direct callers and take messages the way a real receptionist would but at a fraction of the cost.
Voicemail transcription
You'd be surprised how much time you can save by not having to listen through every single voicemail. Make sure your hosted phone system provider offers the voicemail transcription feature so that you can have your voicemails transcribed and ready to read at all times.
Conference calls and videoconferencing
An essential feature for any business phone system, conference calls allow multiple users to dial into a call on any device and from virtually any location. Considering the growing popularity of remote and hybrid work, having a hosted phone system that offers video conferencing is even more valuable because you can see your co-workers and often share documents on your screen.
Messaging
This feature is just one of the many perks of not being restrained to traditional phone lines for communication.
In addition to calling capabilities, many cloud-based phone services offer text and multimedia messaging as features.
Hot desking
Ideal for hybrid work and shared workspaces, hot desking makes it possible for employees to access their work line from any unassigned IP desk phone in the office. The feature allows them to log in and start making and receiving calls as if it was their own phone.
API integrations
Ideally, your hosted phone system will be able to integrate with other applications, such as CRM apps like Salesforce or Microsoft Dynamics 365. This feature greatly boosts productivity and improves the customer service experience by letting you leverage the functions and insights of each system and app simultaneously.
5.
The benefits of a hosted phone system
A hosted phone system offers several advantages in comparison to on-premise solutions, including:
1. Cost savings
Hosted phone systems require very little upfront investment. Rather than having to hand over thousands of dollars to have an on-premise system, you can pay a much more affordable monthly fee for a hosted phone solution that's managed by a third-party provider.
Since much of the infrastructure exists elsewhere, the cost of any onsite equipment (such as VoIP-enabled devices) is very low. In some cases, you may already own the equipment needed. Additionally, there are few costs associated with installation and maintenance since most of it is handled remotely and included in your subscription.
2. Easy setup
While setting up a traditional on-premise business phone system can be both an expensive and long process, it is quite the opposite with a cloud-hosted phone system. With service delivered through the internet, much of the installation and setup process occurs online—no need for support reps to disrupt you at the office.
3. Advanced communication features
Hosted phone systems come with advanced communication features that traditional phone systems reliant on landlines simply cannot support, such as text messaging, instant messaging, videoconferencing and more. In other words, a hosted phone system provider can offer a unified communications as a service (UCaaS) solution to address your business's needs.
4. Streamlined management
In offering so many different communication services, cloud phone systems streamline the management of their solutions. As opposed to having to keep up with multiple vendors for various services, you can enjoy the ease of working with just one provider that does it all.
5. Offsite maintenance and updates
Like with all technology, phone systems need to be regularly maintained and updated. Fortunately, virtual phone systems are managed by your phone provider, who is responsible for maintaining and updating the system offsite at no extra cost to you.
On the other hand, with an on-premise phone system, you would have to bear the effort and cost of doing it all yourself, or through an internal IT team or external contractor.
6. Greater workforce flexibility
With hosted phone systems, your business and workforce are free to move around and still stay connected.
No on-premise hardware means your company isn't restricted by location. Need to move offices? Just let your provider know, pack up your devices and plug them in at the new place.
Plus, with apps available for all kinds of devices, your workforce has the flexibility to stay in touch where they'd like, whether it's at home as a remote worker or on the go.
7. Efficient scalability
As your company grows, your communications system should grow with it.
Hosted business VoIP systems make it easy to add new lines, connections and features. Since your provider handles the process, you don't have to deal with the cost and hassle the way you would with an on-premise phone system. Also, since hosted systems operate on a per-user, pay-as-you-grow pricing model, it's easier to manage the expenses according to your needs.
6.
What to look for when selecting a hosted phone system provider
If you're interested in enjoying the benefits that hosted phone systems offer, your next step will be to pick a trusted provider that's right for your business. As you review your options, here are a few qualities you should look for when selecting the vendor for your new phone system:
Reliable 24/7 tech support
As the company solely responsible for your business's phone services, your provider should be accessible at all times to address and resolve any concerns you have with your system. Pick a vendor that will be readily available to help you with your communications.
Intuitive interfaces
Take the time to explore the user interfaces of each provider in order to pick one that's fitting for you and your workforce. Don't assume that complex and difficult-to-learn interfaces come with the territory. Look for providers like Ooma that have intuitive user-friendly interfaces that make the service easy to use and manage.
Positive testimonials from current customers
Don't just consider what the provider has to tell you. Dig deeper to discover what their customers have to say about their services. A hosted phone system vendor with a proven track record of delivering excellent service to their customers is one that you'll want by your side.
Upgrade your business communications with Ooma's hosted phone system solutions.
Let's get started
---
Got questions? Give us a call at 866-467-6935 for a free consultation.
Business Phone Plans
All three Ooma Office plans begin with more than 50 essential business phone features that empower you to connect seamlessly with customers and co-workers. If your business requires advanced communication features, get more with Ooma Office Pro and Ooma Office Pro Plus.
$19.95*
Per User / Per Month
One Toll-free Number

Digital Fax
Most Popular
$24.95*
Per User / Per Month
Everything in Essentials

Text Messaging

Dynamic Caller ID

Google and Office 365 Integrations

Analytics

Analytics User Leaderboard
Best Value
$29.95*
Per User / Per Month
Everything in Pro

Advanced Call Management

Ooma Meetings Recording

Find Me, Follow Me
Thank you!
An Ooma Office Sales Representative will be in touch shortly.
866-573-0707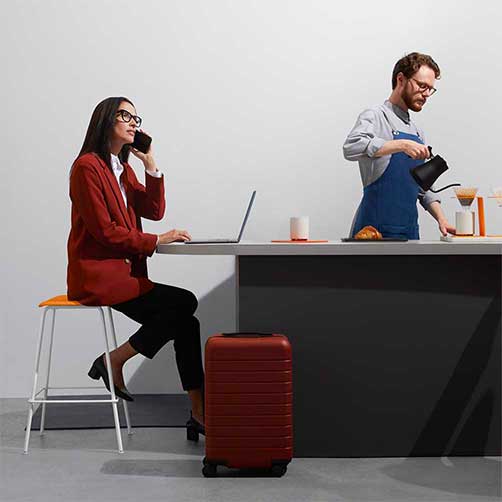 Get a Quote
Upgrade to a smart business phone for only $19.95 per user/mo.
Thank you!
An Ooma Office Sales Representative will be in touch shortly.
866-573-0707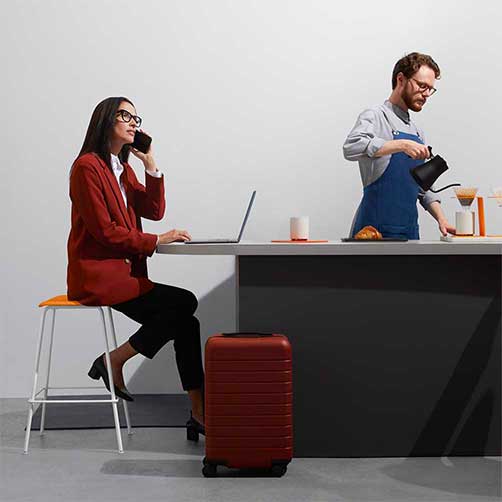 Let's talk!
One of our knowledgeable representatives is standing by to provide recommendations and help you get started. Just call 877-621-0515 or click this CHAT button. Or, fill out this form and someone will reach out to you shortly.
Thank you!
An Ooma Office Sales Representative will be in touch shortly.
866-573-0707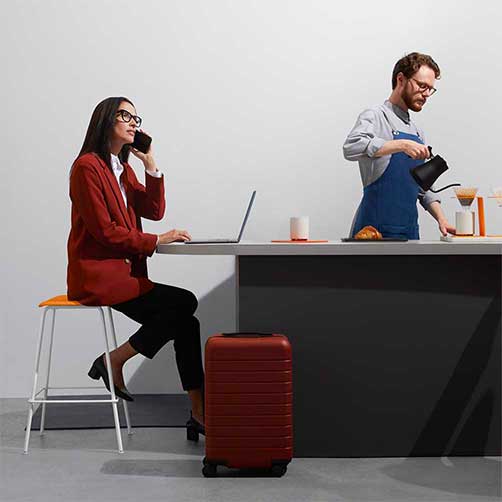 Let's talk!
One of our knowledgeable representatives is standing by to provide recommendations and help you get started. Just call 877-621-0515 or click this CHAT button. Or, fill out this form and someone will reach out to you shortly.
Thank you!
An Ooma Office Sales Representative will be in touch shortly.
877-412-9552
UCaaS solutions perfectly tailored for your business.
We'll follow-up within one business day.
We'll conduct a needs analysis and design a solution built around your requirements.
A custom quote will be generated.
Call Sales

877-412-9552
or
Chat