Ooma Receives 2021 TMC Labs INTERNET TELEPHONY Innovation Award for Continuous Voice Feature of Ooma Connect
Sunnyvale, CA - Wednesday, November 10th, 2021
Ooma, Inc. (NYSE: OOMA), a smart communications platform for businesses and consumers, today announced that TMC, a global integrated media company, has named the Continuous Voice™ feature of Ooma Connect as a 2021 TMC Labs INTERNET TELEPHONY Innovation Award winner presented by INTERNET TELEPHONY magazine.
The TMC Labs INTERNET TELEPHONY Innovation Award honors products that display innovation, unique features, and significant contributions toward improving communications technology. The awards are bestowed to those companies demonstrating ground-breaking contributions to the industry.
Continuous Voice (https://www.ooma.com/business-internet/continuous-voice/), a unique and patented technology, automatically provides continuity for business phone calls through Ooma Connect, which delivers primary or backup business internet service through an advanced nationwide wireless network. Ooma Connect, consisting of a base station and antenna, is easy to get up and running, without professional installation or complex configuration.
When Continuous Voice is enabled, which only requires flipping a virtual switch in the Ooma Connect mobile app for iOS or Android, all Ooma Office telephone calls are simultaneously transmitted through two links – the organization's primary broadband connection (such as cable, fiber or T1) and the wireless network provided by Connect.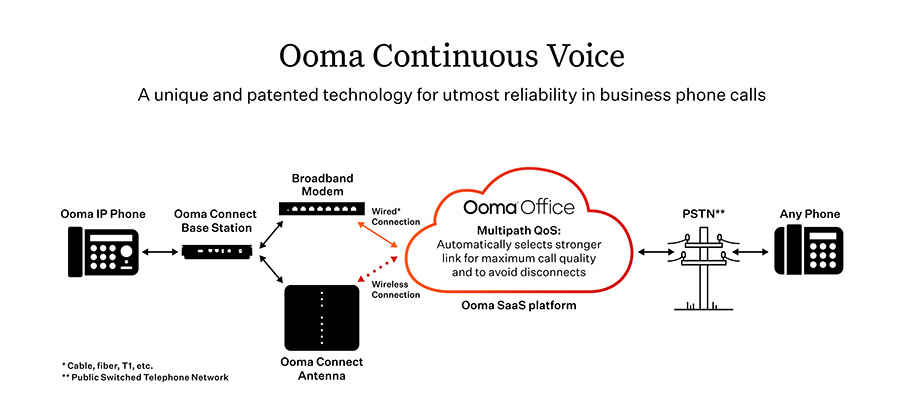 Ooma's software as a service (SaaS) cloud platform constantly monitors both data streams to deliver multipath quality of service (QoS). If digital voice data in one stream is disrupted by congestion, dropped packets or latency, Continuous Voice automatically takes voice data from the other stream to avoid degraded audio quality or dropped calls. If one stream goes offline, all calls in progress continue uninterrupted through the other stream. This failover is automatic and Continuous Voice automatically resumes monitoring both channels when full service is restored.
In addition, Ooma Connect provides backup for all internet traffic when configured to provide Continuous Voice. If the primary internet connection fails, Ooma Connect automatically switches to wireless internet data for all devices installed downstream of the Ooma Connect base station.
"The TMC Labs INTERNET TELEPHONY Innovation Award recognizes the best and the most unique products and services that this industry has to offer. Ooma has proven their commitment to quality and the further development of the IP communications industry through the Continuous Voice feature of Ooma Connect," stated Rich Tehrani, CEO, TMC. "Congratulations to the entire team at Ooma for earning this great honor. I look forward to seeing more innovative solutions from them as they continue to contribute to the future of IP communications."
"We're proud to have developed Continuous Voice technology to free our customers from the worry that important calls will stop midstream during an outage, with the option to back up critical services such as point-of-sale systems and email," said Thad White, vice president of product management at Ooma. "We are also honored to have received this award from TMC Labs in recognition of the value Continuous Voice delivers."
Ooma Connect, which provide Continuous Voice, is available now in the United States for $599.99, or as a rental at $15 a month. Service plans start at $29.99 a month, with unlimited data plans starting at $99.99 a month. Ooma Office (https://www.ooma.com/small-business-phone-systems/), the award-winning business communications service designed to meet the needs of small and mid-sized businesses, starts at $19.95 per extension per month, with no contract required. All pricings are exclusive of taxes and fees.
The 2021 TMC Labs Innovation Award winners will be highlighted on TMCnet and INTERNET TELEPHONY magazine's online news portal.
About Ooma, Inc.
Ooma (NYSE: OOMA) creates powerful connected experiences for businesses, consumers and service providers, delivered through smart cloud-based communications platforms and services. For businesses of all sizes, Ooma offers advanced voice and collaboration features including messaging, intelligent virtual receptionists and video meetings. Ooma's all-in-one replacement for analog phone lines helps businesses maintain mission-critical systems by moving connectivity to the cloud. For consumers, Ooma's residential phone service provides PureVoice HD voice quality, advanced features and integration with mobile devices. Learn more at www.ooma.com or www.ooma.ca in Canada.
---
Contact:
Investors
Matthew S. Robison
Director of IR and Corporate Development
Ooma, Inc.
email: ir@ooma.com
phone: (650) 300-1480
Media
Mike Langberg
Director of Corporate Communications
Ooma, Inc.
email: press@ooma.com
phone: (650) 566-6693