International Calling to Guadeloupe
For calls to Guadeloupe from the U.S.A., Ooma is a popular choice because of its affordable dialing rates and high-quality audio with PureVoice™ technology. Affordable dialing options range from Basic Service with low per-minute rates to international dialing plans with unlimited monthly calls.
Using Ooma's Basic Service or Premier Service, calls to landlines in Guadeloupe cost just $0.063 per minute, and calls to the country's cell phones cost $0.404 each minute. Basic Service has no monthly fee for unlimited calling within the U.S.A., and international calls are prepaid, so charges are deducted from your balance.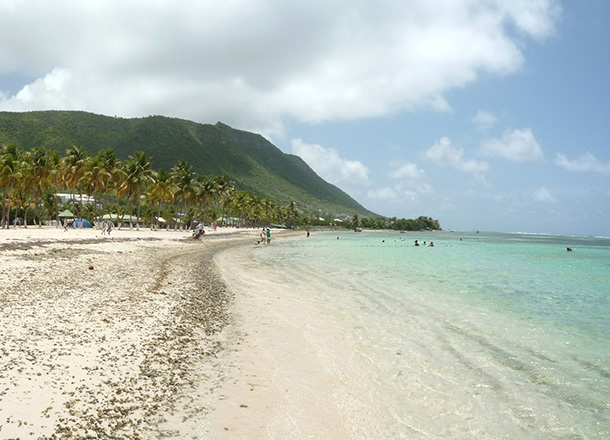 With Premier Service, per-minute charges are billed in addition to the $9.99 monthly charge for the plan. Although the dialing rates are the same between Basic and Premier, there are a whole host of additional features you gain access to with Premier Service. For example, Premier customers get powerful call-blocking tools to protect against telemarketers, the Ooma Mobile app for making calls from your mobile phone, voicemail access through email, free unlimited calling to Canada and Mexico, plus many others that Basic Service doesn't provide.
If you frequently call Guadeloupe or other international locations, upgrading to one of Ooma's dialing plans can save you money and give you the freedom to make unlimited international calls.
With the Ooma World Plan, you can make unlimited calls to all landlines in Guadeloupe. Calls to the country's cell phones are charged at Ooma's low rate of $0.404 per minute. In total, the plan gives you unlimited calling to landline numbers in 60 countries and mobile numbers in 10 countries for a low rate of $17.99 per month.
With the Ooma World Plus Plan, you can make unlimited calls to both landlines and cell phones in Guadeloupe. For just $25.99 per month, this plan includes unlimited calls to landlines in 70 countries and mobile phones in 40 countries.
Learn more about the countries included in Ooma's international plans to find the right solution for your needs.