Have you ever wondered how secure your cell phone calls are, or wondered if someone could eavesdrop on what you were saying?
It's not just a question for the paranoid. It's a question that everyone should ask, and here's why.
Anyone with your cell phone number has the ability to hear your calls, read your texts and track your location (even if GPS is turned off).


Paste this Image on Your Site!
Simply copy and paste the code below and you can share this infographic on your site:
Source List –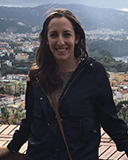 Anat is the Sr. Social Media Marketing Manager at Ooma. With over seven years of experience in Social Media, her early adoption of popular social media platforms allows her to stay one step ahead in the social media realm. Her experience, goal-oriented personality, and understanding of engagement and metrics lead her to create social media solutions that provide measurable results. Anat holds a BS in Marketing and a minor in Communications from Arizona State University.