Moving into a new home can be a stressful experience. There are a number of things you need to do to make sure your home is up and running, from organizing movers to turning on utilities to making sure everyone and everything knows your new address.
This can be especially overwhelming if you're a first-time homeowner, and you might have to consider something you didn't have at your old rental: home security. Now that you have property, it's up to you to make sure it's as safe as possible from potential threats.
There's a lot to learn, but we're here to help. We've pooled together the things you need to know, and the things you need to do, to make sure your new home is protected now and in the future.
Things you need to check.
When you begin to move into your home, there's often an inspection or walkthrough that'll have you checking to make sure everything in your home is working and in top shape. It' an essential thing to do, but you should also a security-minded walkthrough, too.
A security-minded walkthrough will help you identify potential weak spots in your home, figure out how you can improve your security and plan on what to invest in to turn your home into your own personal Fort Knox.
Check your windows.
Windows are a prime way for potential burglars to enter your home. 23% of break-ins happen through first-floor windows. So you'll want to make sure you check every window on your first floor. It's also worth checking the second floor, but those windows only account for 2% of break-ins.
Specifically, you'll want to check for window locks. They need to be there, and if they're not you should make sure you get some installed at some point soon. They can be a valuable way of locking your windows when you're away from home for an extended amount of time.
Keep in mind how many windows you have on each floor, and whether it would be easy or difficult for someone to open and enter through it. The more familiar you are with how many windows there are, the more familiar you are with how someone could break into your home.
Look for entryways.
Similarly, you're going to want to look around your home for potential ways to enter. The best way to think about it is this: If you had forgotten your house keys, how would you make it into your home?
You'll want to look out for any potential entrance. Take stock of whether there's a side or back entrance, or if your garage uses a manual or automatic door. A whopping 54% of break-ins happen via front and side doors, so you'll need to keep stock of where those places are.
Make sure you get a feel for how strong your doors are, and whether they use deadbolt locks. If your door is older and more weathered, it could be easy to kick in for a smash-and-grab style burglary. Deadbolt locks, on the other hand, can help secure your door better than simple lever and thumb-turn locks.
Look at your home from the outside.
Burglars tend to scope out your home before planning their attack, so it's only right that you scope out your own home to see what it looks like from their eyes.
You'll want to keep an eye out for unconventional ways of entry, like a tall tree that has limbs near a second-story window. Or maybe fencing that looks ragged or easy to climb. Again, it's worth trying to consider how you'd attack your home if you happened to get locked out of it.
Pay particular attention to how tall your bushes and plants are. Tall bushes and plants allow burglars to better hide before breaking in. Burglars can also use tall bushes and shrubs to obscure views of them as they run away. If your bushes could shield a full-grown person, you may want to consider trimming them for better visibility.
Also make sure your home always looks lived-in from the outside. Take care of your lawn and give it some unique flourishes or outdoor lighting. Consider keeping your porch lights on all night, despite potential energy costs. These actions can help make it feel like you're home, even if you're not, and reduce the risk of a break-in.
Things you can do.
Once you've scoped out your home, there are a number of things you can do to fortify it. One of the biggest is to invest in smart home security, adding a layer of protection to your home.
The simplest thing you can do is to make your home look protected. You can do things like getting dummy outdoor security cameras or fake home security signposts to display in your yard. When burglars are scoping out your home, these are often the first things they look out for. The more prominent they are, the less likely a burglar is going to try to break into your home.
Beyond that, you could strengthen the security of your home so that if someone does break in, you'll scare them away and alert the authorities as fast as possible. Part of that is investing in security devices.
Read: 8 Common Home Security Mistakes and How to Avoid Them
Get a smart cam.
One of the simplest ways to improve security at your home is with smart home security cameras. They're easier to install than more traditional IP and CCTV security cameras, and many of them can work both inside and outside of your home.
Smart cameras come with features like built-in batteries, onboard storage, cloud storage backups, easy sharing with the police, facial recognition and motion detection. If your camera sees someone, it'll send you a notification on your phone right away. You'll have eyes on your home at all times.
Ideally, you should place your cameras in places where you think burglars are most likely to enter – like the front of side door, or even your back yard.
Get window and door sensors.
Window and door locks can protect your home, but they can also be circumvented. Doors can be picked, and windows can be shattered, making it easy for burglars to unlock them. One way to backup windows and doors is with sensors.
These sensors sit on your door and window sills, and they'll let you know any time they're opened for any reasons. If your smart home security system is also armed and ready to go, your system will ring out and alert first responders.
Get a siren.
Sometimes, the best way to scare off a burglar is with a noise loud enough to alarm your neighbors – especially if you don't have home monitoring. Sirens can be linked to motion, window and door sensors.
If anything is triggered, your siren will go off. You'll want to find a siren that's around 100 decibels, which is enough to alert everyone in the area but also well below federal regulations. Nothing says "get out" better than a loud alarm siren.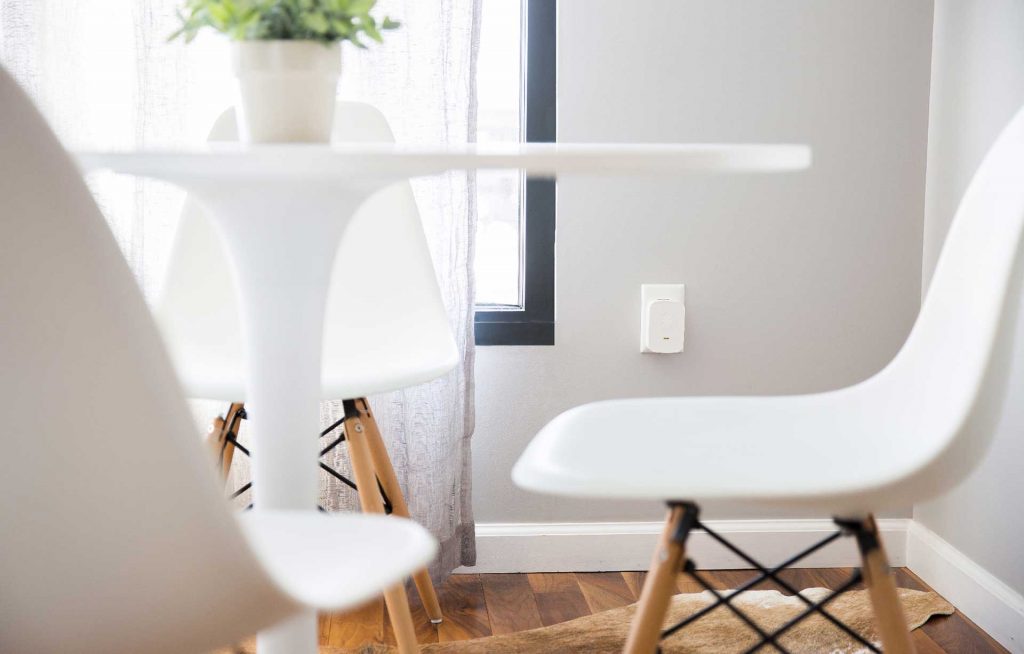 Get motion sensors.
Motion sensors can be powerful tools in your home security arsenal. If anything crosses their path, they'll trigger. There are certain things you're going to want to look out for when considering a home security motion sensor.
You'll want something that'll work well when it's dark, and you'll also want something that has good wireless range. But even more important, you'll want something that's tamper proof. Try to find a motion sensor that'll go off if someone tries to remove it or pull out its batteries. Speaking of batteries, a motion sensor with a long lifespan, like over a year, will bring you some peace of mind.
Get a water leak sensor.
Burglaries aren't the only security threat you need to watch out for. Water leaks can cause a host of damage to your home, and cause health hazards like mold and mildew.
Putting water leak sensors under sinks or near your water heater can go a long way to helping you catch leaks before they become bigger problems.
Getting a home security system.
If you're looking to protect your home, you may first consider a traditional home security system. While these systems can be extensive, they can also be extremely expensive. When you factor in installation and monitoring, your three-year cost estimate for a service like ADT is between $1,431 and $2,007.
There is a more affordable and easy-to-use solution, and that's a do-it-yourself smart home security system. Ooma's Home Security system comes in a number of different starter packs, depending on your needs.
You can get packs with or without smart cameras and water sensors. Even better, you can build your own bundle, only including sensors that work best for your home. If you have a smaller home, you can go with fewer window and door sensors, and if you have a big home, you can add in even more.
There's no installation cost either, as Ooma Home Security is easy to install yourself. You won't have to worry about an expensive monthly subscription as well, as plans start at just $4.99 a month with Ooma's free optional Basic Service phone plan. You'll also gain abilities like remote 911 calling and automatically arming and disarming your system based on your location.