Implementing cloud communications systems can have a multi-level impact on businesses. On the finance side, it can lower costs. Operationally, it expands your phone system to go beyond desk phones. It can provide the tools for better customer communication. It can also boost employee productivity by improving coworker communication.
Does that sound too good to be true? Cloud phone systems are delivering these outcomes using a combination of robust and flexible technology, helping your business to have an edge.
The Ooma 2019 Buyer's Guide for cloud phone systems will walk you through the most important aspects of cloud communications, helping you to choose the right phone solution for your business.
Why Does Your Business Need a Cloud Phone Service?
Cloud phone service is trending. Currently, about a third of all businesses are using cloud phone systems, and the latest technology trends indicate a groundswell of cloud communication adoption in 2019.
You may have heard of cloud-based phone systems under a different name. The technology is also called cloud PBX, virtual PBX, hosted VoIP, and business VoIP. No matter what you call it, these VoIP phone systems transmit calls over the internet, which allows for advanced functionality that doesn't have the same limits of a traditional on-premise system.
For example, cloud phones allow you to integrate calls with other cloud-based apps such as Dropbox, Google Drive, email, and more. Also, tools such as real-time calling analytics can improve digital sales by as much as 40 percent while growing new customers by 90 percent.
What Are the Basics of Your Business Phone Needs?
Moving your business to a cloud phone can seem like a complicated decision, but the best way to start is by focusing on the basics of what you need. Ask yourself how many users you have, where the users are located, and what type of call volume you need.
Many cloud phone providers will offer solutions based upon business scale. For example, Ooma Office is geared toward small businesses while Ooma Enterprise provides large-scale phone and collaboration systems.
Most business VoIP systems will offer unlimited domestic calling and low-cost international rates. Some services allow you to add on a toll-free number. Ooma Office customers get the benefit of having a toll-free number included as part of their service with 500 free minutes of toll-free inbound calls.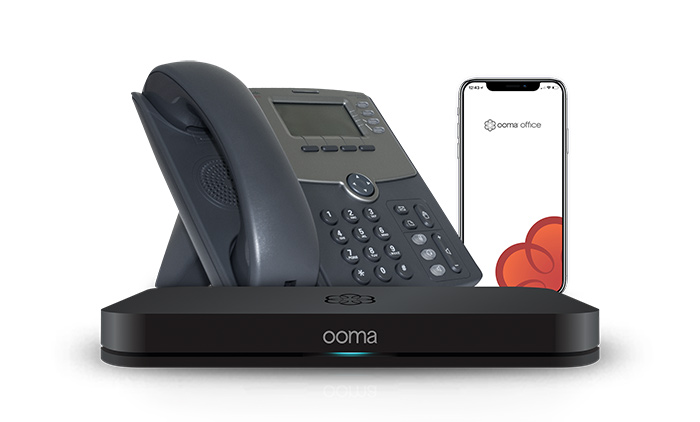 Ooma also provides all users with a mobile app so employees can have full access to their work phone line via a cell phone.
With this app, users are able to break free from traditional desk phone service. They can take work calls while at a conference or while they're on the way to their kids' sports games. When running your business while mobile, the app means that business contacts will use a consistent and professional phone number to reach employees, even when they're away from the office.
The app can also network remote employees into your phone system, providing a single communication portal. Even if you're customers dial your main phone line that rings at your business headquarters, the call can be seamlessly transferred to a remote developer in another city or an offsite accounts receivable agent.
Which Calling Features Are Available with a Cloud PBX?
The scale of your business' calling features should match the scale or your user base and business apps. When your cloud phone system is the correct size, your business will avoid paying for tools that it doesn't need, and have an easier deployment.
Small businesses using Ooma Office have access to advanced features at a manageable scale. For example, all users get call automation with a virtual receptionist, a conference bridge, voicemail audio to email for a productivity boost, ring groups, 24/7 support, and more.
Large businesses that are deploying an enterprise communications solution can use Ooma Enterprise to implement UCaaS with SMS messaging, video conferencing, a call center platform, multi-cloud application integration, analytics, and other enterprise-level telephone features.
Are Cloud Phone Calls Reliable and Clear?
Using your cloud phone should be easy. Conversations should be clear; calls shouldn't be dropped; and service should have maximum uptime.
For your phone system to support your business adequately, these basics of reliable service are just as important as its advanced features.
The behind-the-scenes technology that powers cloud phones can vary significantly between providers. In the 2020 PC Magazine Business Choice Awards, Ooma Office was ranked as the #1 VoIP provider as well as being the #1 choice for reliability and call quality. In fact, Ooma has been PCMag's #1 phone service for the past eight years.
Here's how we do it:
Adaptive redundancy of audio transmissions: Lost data is usually the cause of the stuttered or garbled audio that can occur with some cloud phone systems. Ooma's audio processing works in real time to detect packet loss. If something is lost, it'll instantly retransmit the data so your calling audio remains clear.
Advanced voice compression: Phone calls that use less bandwidth make it possible to transmit high-quality audio in environments with slower internet connections. Plus, compression reduces your network traffic. Ooma's proprietary technology preserves call quality while reducing bandwidth consumption by 60 percent, as compared to typical VoIP technology.
Maximizing uptime with infrastructure redundancy: Some cloud phone services use only a single data center to keep their expenses low. However, this can mean businesses have an increased risk of losing service. Instead, Ooma uses a distributed approach that's similar to other cloud systems such as Google. Thanks to data centers around the world, users can be confident in service availability, so a power outage in Houston won't affect phones in your London office, for example.
Reduced latency from a globally distributed network:Ooma Enterprise calls are automatically routed through the closest hub to get the best speeds for their location. With the intelligent algorithm, calls originating from New York, San Francisco, Tokyo, and Berlin could each be routed differently.
What's Your Budget for Communication Technology?
On average, IT spending in 2019 is about 2.7 percent of business revenue, and 71 percent of businesses plan to invest in cloud technology in 2019.
"IT organizations are encouraged by their experience with cloud computing thus far and are willing to supplement those efficiency gains with additional spending, especially for business transformation and the continued move to the cloud," said the Worldwide IT Spending and Staffing Outlook for 2019.
Poor communication can be costly. On average, large enterprises lose $62.4 million per year, and businesses of about 100 employees lose an average of $420,000 per year. On the other hand, implementing a cloud phone system can save a business $920,000 from the productivity gain
When considering the total financial implications of your phone system, it makes sense to invest in the technology that powers how your employees work together and how your customers connect with your business.
Yet, it turns out that accessing the rich functionality of a cloud phone system will typically cost less than your traditional phone. The monthly rates for Ooma Office are only $19.95 per user. With a straightforward price per user and contract-free service, Ooma makes it easy to scale your phone system as your business grows.
Businesses with three employees can save more than $6,000 in just three years. Ooma's cloud phones have collectively saved customers $1.5 billion, and you can see how much you can save by using the savings calculator.
Learn how Ooma Office and Ooma Enterprise can help your business make the most of cloud communications.