VoIP phone services, Ooma and BasicTalk, are known among both cost-cutting and cord-cutting communities.
Even as VoIP has been a game changer for home phone service, switching to an internet-based phone plan can involve new questions, logistics, and functionality.
In a head-to-head comparison of Ooma versus BasicTalk, we'll compare the service, features, support, and cost of the two phone services. Find out the differences between Ooma and BasicTalk residential home phone, so you can choose the service that's right for you.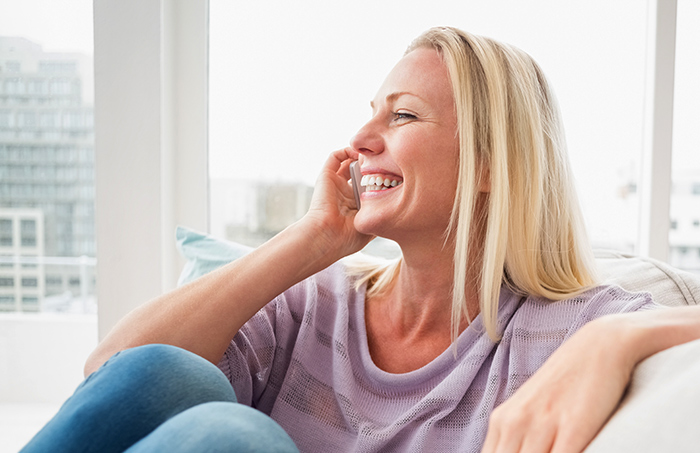 WavebreakmediaMicro – stock.adobe.com
Phone Service Basics
The main problem with BasicTalk is that you may not be able to get new service, even if you wanted it. Here's how the trajectories of Ooma and BasicTalk phone services compare.
BasicTalk was launched in 2013 by its parent corporation, Vonage, positioning itself as a low-cost phone provider with Walmart as its exclusive retailer. Yet, within two years, there was discussion about the brand exiting the market.
Currently, the BasicTalk website is still active. However, the company says on Facebook, "While we continue to service loyal BasicTalk customers, we are no longer actively selling BasicTalk service."
As of this writing, all BasicTalk products are out of stock on Walmart.com, and it's only available on Amazon through third-party retailers.
In contrast, Ooma has been one of the pioneers of the VoIP industry. Founded in 2004, it's grown to become a full-service communications provider, offering VoIP at all levels from home phone service to major enterprise phone systems, as well as integrating smart home security. Its innovative solutions are beloved by customers and continue to be acclaimed by reviewers such as Consumer Reports and PC Magazine.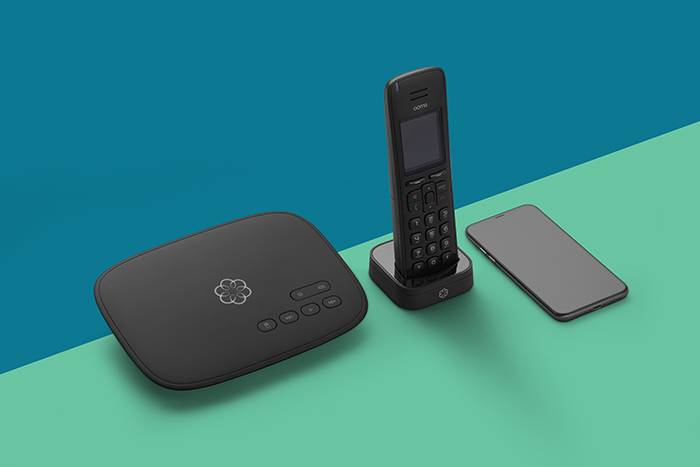 Cost
Ooma Telo is the ultimate low-cost home phone service. Although the low rates of BasicTalk are one of its primary selling points, when we ran the numbers, Ooma actually has a lower total cost.
In the chart below, you'll see that Ooma's monthly service is free, while BasicTalk charges $9.99 per month.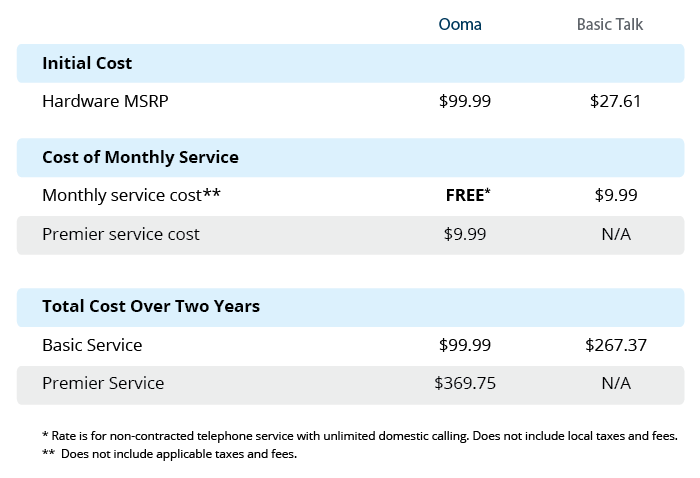 Excluding taxes and fees on both services, the two-year total cost for BasicTalk customers is $267.37. That seems like a great deal, but Ooma's prices are even lower. The two-year cost for Ooma is just $99.99. That means Ooma costs 63 percent less than BasicTalk.

Like BasicTalk, Ooma is contract-free so you can change your service at any time. Both companies do charge taxes and fees on top of service costs. For Ooma, the rates vary by what's required in your ZIP code, with typical costs between just $4 and $7 per month.
When compared to traditional phone service, Ooma users are saving even more. For customers who currently have a $40 phone bill, switching to Ooma could mean saving more than $1,000 in just three years.
See how much you can save by using Ooma's savings calculator.
As for international calls, BasicTalk doesn't offer outbound international calling. However, Ooma offers several low-cost international calling options, making it affordable to stay in touch with your global contacts. There's even an option for unlimited calling to more than 60 countries!
Features
Not only does Ooma cost less over time, but it also includes more features than BasicTalk.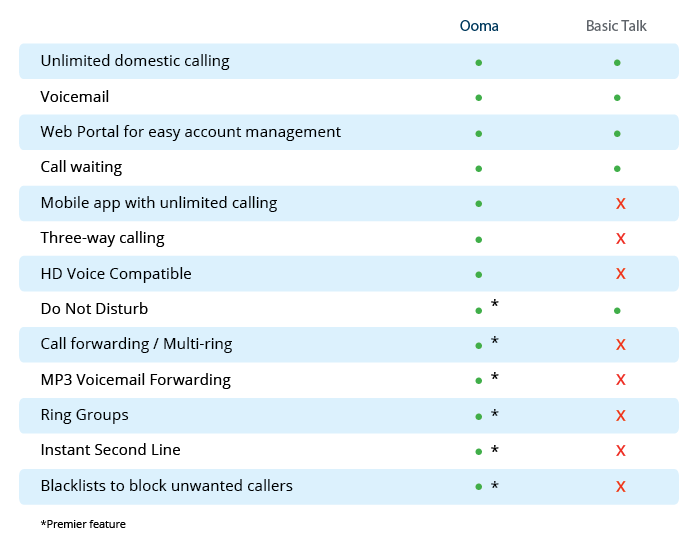 The chart above shows that there's some overlap in the features offered by Ooma and BasicTalk. For example, both offer voicemail, call waiting, and a web portal for account management. They both also offer unlimited domestic calling, including long distance. However, for users who are pushing their phone service to the max, BasicTalk's reasonable use policy cap is 3,000 minutes per month when combined with other factors, or about 1.5 hours per day. Ooma's fair use policy is nearly double that at 5,000 minutes per month.
Even though Ooma Basic is low cost, it offers many high-tech features. For example, all customers can make hands-free calls using Alexa, use the free calling app for unlimited outbound calls, use HD Voice for an unprecedented level of audio realism with compatible devices, and implement 911 alerts, so you can be notified if someone makes an emergency call from your Ooma phone.
Another major advantage is Ooma's flexible access. With the Ooma mobile app installed on your mobile device, you can access your service from anywhere. The calling app doesn't replace the native phone line on your device; instead, it's an add-on phone line, allowing you to keep your calls organized. Notably, the app has also been a helpful way for international travelers to have easy access to affordable phone service while abroad.
Upgrading to Ooma Premier provides access to even more features. For example, users can have two phones in one with Instant Second Line, receive voicemail audio in their email, have full access on the mobile app, and expand their smart home integration.
Ooma vs. Basic Talk: Call Quality, Support, and Spam Blocking
After switching to VoIP, you'll have the option to get a new phone number, or you can choose to transfer your existing phone number from another provider.
BasicTalk provides all customers with a free number transfer while Ooma's ultra-low-cost service does charge a fee. However, Ooma provides a free phone number transfer to customers with an annual subscription to Ooma Premier. This is comparable since Ooma's highest level service costs the same as BasicTalk's standard service.
As for incoming calls, some estimates say that unwanted spam calls will account for about half of all cellular calls this year.
To help stop the scourge, BasicTalk offers anonymous call block, which can stop callers who don't reveal their caller ID information. However, Ooma goes much further, helping you stop the annoying ringing with a combination of five powerful call-blocking tools (read more on how to block telemarketers).
Ooma Premier users can fight back against unwanted callers by using the following call-blocking settings:
Block anonymous callers who don't reveal their caller ID information – more on blocking caller-ID.
Block known spammers as reported by the Ooma community.
Block suspected spammers as defined by third-party databases.
Customize call blocking for specific phone numbers, groups of numbers, or callers who have certain caller ID information, such as a political party.
Contacts-only call blocking offers the ultimate protection against unsolicited calls by only allowing those of your contact list to get through.
Ooma users also have more power over how these calls are handled. For each call-blocking category, users can select to have the caller sent directly to voicemail, hear a message that the call has been blocked, hear a message that the number has been disconnected, or hear a continuous ring.
Another major difference between the two services is that BasicTalk only offers technical support through its website via chat or email. That makes it a phone service that you can't call when you need help! Ooma offers 24/7 live chat support and phone support 7 days a week.
Conclusion
When deciding between Ooma and BasicTalk, one of the main points to consider is that new BasicTalk units are no longer being sold directly by the company. On the other hand, Ooma is a growing platform where new features are being added to support a thriving user base.
Moreover, while both services are affordable, Ooma actually costs less than BasicTalk and provides more features. When we did the math, Ooma can cost 63 percent less than BasicTalk, while offering features such as three-way calling, Alexa integration, 911 Alerts, and more.
In addition, Ooma provides technical support via phone or chat, but BasicTalk support is only available online.
Trying Ooma home phone service is risk-free with its 30-day return policy. It's contract-free, so you can use it for as long as you like and even upgrade to Premier Service to access advanced calling features such as robust call blocking, full mobile app access, and more.
Learn more about how Ooma home phone service can help keep you connected for less and how you can make free calls using VoIP.