This Father's Day, we're thinking about all of the times during the year when we call our dads. We call when we need advice. We call to catch up, and we call to tell them we care. While these calls to Dad usually happen as a part of daily routines, they can have a meaningful impact on our lives, and as we see in the movies, calling Dad can be an important part of a plot.
As Father's Day approaches on Sunday, June 20, let's look at some of the best phone calls to Dad in the movies. These scenes show just how important these conversations are at keeping us connected.
1. Ant-Man and the Wasp
Was that emergency call to Dad really an emergency?
In the 2018 movie Ant-Man and the Wasp, there is a classic phone call scene that both parents and teenagers will recognize. While Scott Lang is being held captive, his phone starts lighting up with multiple 911 text messages from his daughter. Then seconds later when she calls, Lang is worried that something serious might be wrong.
In an effort to always be there for his family, Lang convinces his captor to allow him to answer the call from his daughter. But when they talk, he finds out that the emergency is not what he expected.
Lang says to his daughter, "Cassie, are you okay? What's the emergency?" She responds, "I can't find my soccer shoes!"
2. Taken
This pivotal phone call shows a father's conviction when defending his daughter.
This is the phone call that launched the entire franchise of Taken movies. Bryan Mills is speaking to the abductors of his 17-year-old daughter.
He begins, "I don't know who you are. I don't know what you want. If you are looking for ransom, I can tell you I don't have money, but what I do have are a very particular set of skills." Mills then offers the captor the option to let his daughter go. He continues, "But if you don't, I will look for you. I will find you, and I will kill you."
Liam Neeson portrays a dad's commitment to protecting his daughter. Not only does he threaten the abductors, but he also gives great advice to his daughter. In the scene right before, he tells her what's going to happen and explains exactly what she should do. We'd say that's some helpful fatherly advice.
3. Father of the Bride
This dad was missing his daughter, and he was glad she called.
As Steve Martin is narrating the movie's ending, he was wishing he could have said goodbye to his daughter Annie after her wedding. Then the phone rings. It's his daughter calling from the airport.
She says, "Our plane is about to take off, but I couldn't leave without saying goodbye." In a classic Hollywood-style ending, Annie says to her dad, "Thank Mom for everything, OK? And Dad, I love you. I love you very much." He responds, "I love you too, sweetheart." After the emotional phone call wraps up the plot of this classic Father's Day movie, it's time to cue the music before the credits start to roll.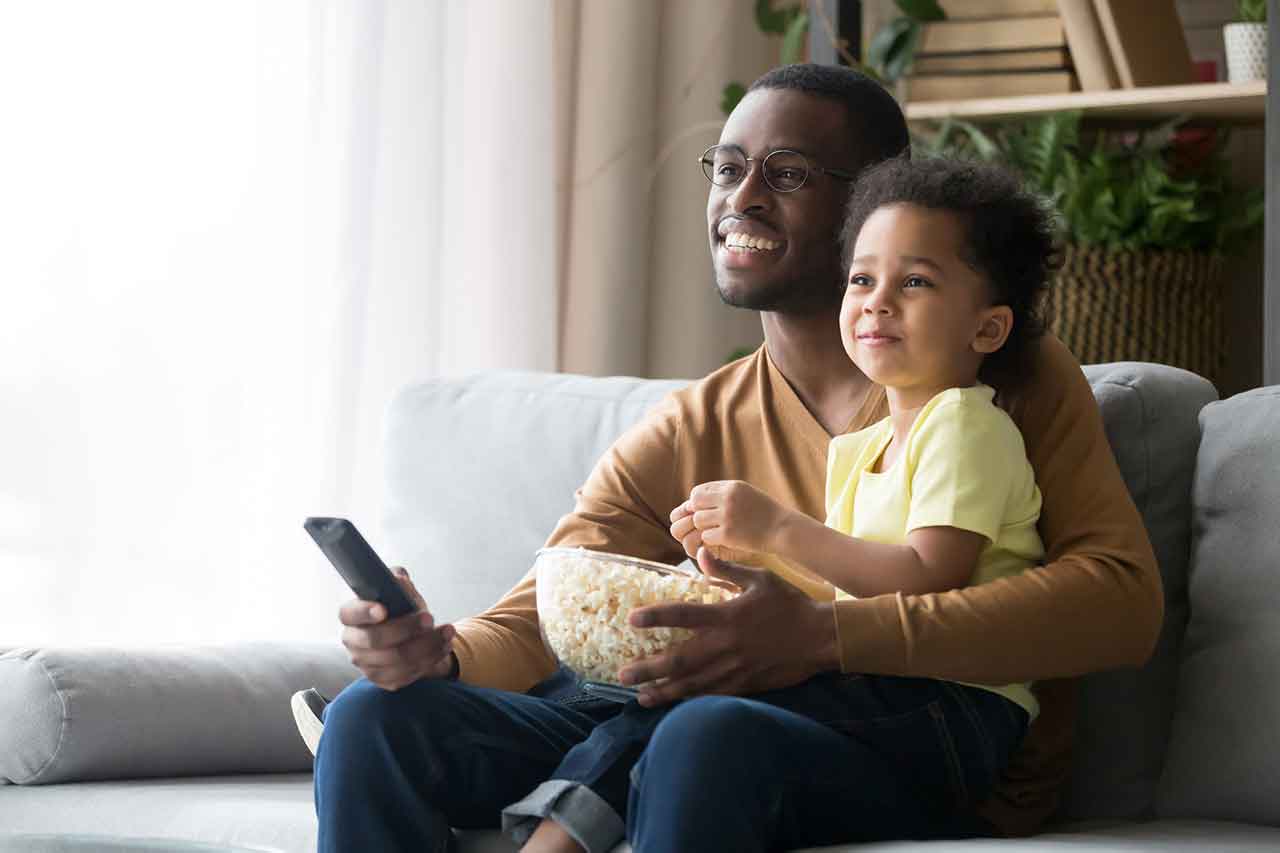 4. Finding Nemo
An overprotective father relies on a friend's attempt at interspecies communication. 
There may not be phones underwater, but long-distance communication is just as important. In one of the most well-known scenes, Dory is trying to help Marlin find his son Nemo by speaking across the sea to what looks like a small fish but turns out to be a whale. In an exaggerated version of whale-speak, Dory tries to say, "We need to find his son," but the nervous father shouts that he's not speaking whale: "You're speaking, like, upset stomach."
This scene highlights the evolution of Marlin's character. In the beginning, Marlin is an overprotective father, and over the course of the movie, he learns to trust his son more. When father and son are finally reunited, there are apologies before Dad begins telling Nemo about his adventures, including meeting a 150-year-old sea turtle. 
5. Interstellar
A moving scene shows a dad catching up on years of missed calls.
Recorded messages are the only way that Cooper, played by Matthew McConaughey, can keep in touch with his family while he's traveling in space. However, 23 Earth years have passed, and Cooper begins to listen to all of the messages he missed.
A montage shows his 17-year-old son age into a 40-year-old man. We see Cooper's tears as catching up on his calls reveals how much he's missed, including the joy of becoming a grandfather when his son has a child, and moments later, the grief of learning that his grandson died.
6. Meet the Fockers
This son is unfazed by finding out how unsavvy his dad is with phone technology.
When Greg Focker, played by Ben Stiller, calls his dad, a simple process of trying to leave a voicemail message reveals just how technologically changed his dad is with phones. The voicemail greeting begins, "Hello, you've reached the Fockers. We're not around, so leave us a message. Goodbye."
Then the answering machine message continues as you hear shouting, "Roz, how the hell do you shut this thing off?" The conversation between the parents continues, and there's back and forth about chimichangas until there's finally the beep. The look on Stiller's face reveals that he's used to his parents' technology fails.
7. Armageddon
A father calls his daughter from space to say goodbye.
This on-screen father-daughter call is a tearjerker. Harry, played by Bruce Willis, has to tell his daughter that he's not coming home after the mission. After explaining to his daughter that he's going to break his promise of returning safely, she responds with a stirring speech: "I lied to you too when I told you that I didn't want to be like you because I am like you. And everything good that I have inside of me, I have from you."
Harry has to go save the planet from total destruction, and he says to his daughter, "I wish I could be there to walk you down the aisle, but I'll look in on you from time to time." When the call cuts out, the static is all that's left.
8. Sleepless in Seattle
This eight-year-old called a radio station and ended up having a heart to heart with his dad.
In this classic movie, Tom Hanks plays a typical dad character dealing with babysitters and meals. But the relationship between father and son is strained by loss because his wife had passed away. When eight-year-old Jonah calls a talk radio show to get advice about his dad, the conversation takes a twist. The radio host gets both the father and son on the phone call together, and the call transitions into an important conversation between father and son.
How can you stay in touch with Dad?
Ooma Telo is a low-cost landline alternative for helping families stay connected, and setting up Ooma is so easy that even Mr. Focker could probably manage it. Dad can keep his phone number while using a traditional wall phone, and all calls are transmitted over an internet connection.
The Ooma Basic plan includes a robust set of features including call waiting, online call logs, advanced 911 and Amazon Echo integration. For those who want more, Ooma Premier provides additional features including enhanced call blocking, custom ring patterns, three-way conference calling, and more.
Plus, Ooma's high-quality phone service is affordable. Our home phone calculator shows that those consumers switching from a traditional landline could save an average of 73 percent, and those switching from cellular service could save an average of 94 percent.
Learn more about how you can stay connected with Ooma's home phone service.