PCMag Readers Select Ooma Office as the Best Business VoIP Phone Service for the 10th Straight Year
Sunnyvale, CA - Monday, March 13th, 2023
Ooma, Inc. (NYSE: OOMA), a smart communications platform for businesses and consumers, today announced the company's Ooma Office service has won PCMag's prestigious Business Choice Award for Best VoIP System for the tenth year in a row.
The award (https://www.pcmag.com/news/business-choice-2023-the-top-voip-service-for-your-office) comes from the magazine's annual Business Choice surveys of its readers, with Ooma again emerging as the top provider of VoIP phone service among 18 finalists including RingCentral, Microsoft Teams, Vonage, and Google Voice.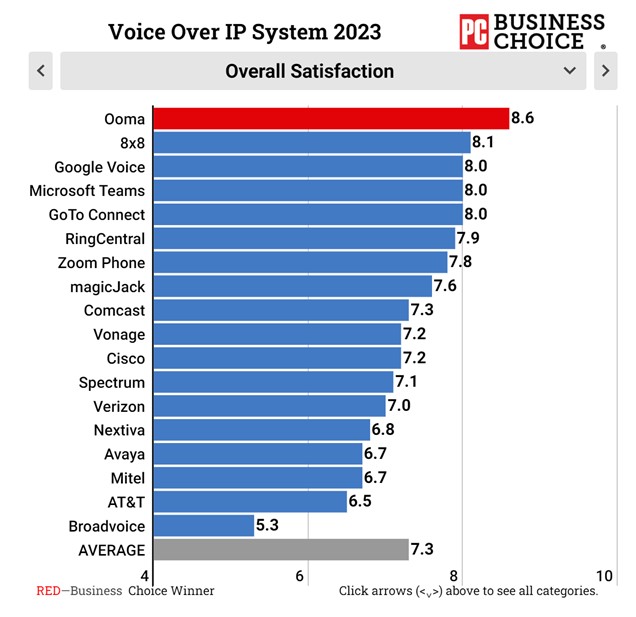 "For the 10th year in a row, Ooma takes the lead in our annual VoIP survey," PCMag said in its story on the award. "The service remains far ahead of most of the competition in almost every metric."
Ooma's overall satisfaction score of 8.6 out of 10 is a half-point ahead of the second-place finisher and is 1.3 points above the average for all 18 VoIP service providers included in the survey results.
In addition to overall satisfaction, PCMag said, "The other category we consider most when picking a winner from the numbers is the likelihood to recommend, meaning someone endorsing a service to a colleague; Ooma has the lead there as well." Ooma's Likelihood to Recommend score of 8.8 is 0.4 points ahead of the second-place finisher and 1.5 points above the average.
"Ten years in a row! All of us here at Ooma couldn't more be excited to have again earned this award because it comes from our business customers," said Jim Gustke, vice president of marketing at Ooma. "But we won't take too much time to celebrate. Instead, we'll keep working every day to make Ooma Office an even better solution for our valued customers."
Ooma Office (https://www.ooma.com/small-business-phone-systems/) offers a set of features curated to meet the needs of small and medium businesses. Service plans start at $19.95 a month per user (excluding taxes and fees) with no long-term contract required. Customers have their choice of interface – conventional analog phones, IP phones, virtual service through the Ooma Office desktop and mobile apps, or any combination of the four. Advanced features such as a virtual receptionist, ring groups, video conferencing, text messaging, call queueing and multi-site access combine to make small businesses sound big.
About Ooma, Inc.
Ooma (NYSE: OOMA) creates powerful connected experiences for businesses, consumers and service providers, delivered through smart cloud-based communications platforms and services. For businesses of all sizes, Ooma offers advanced voice and collaboration features including messaging, intelligent virtual receptionists and video meetings. Ooma's all-in-one replacement for analog phone lines helps businesses maintain mission-critical systems by moving connectivity to the cloud. For consumers, Ooma's residential phone service provides PureVoice HD voice quality, advanced features and integration with mobile devices. Learn more at www.ooma.com or www.ooma.ca in Canada.
---
Contact:
Investors
Matthew S. Robison
Director of IR and Corporate Development
Ooma, Inc.
email: ir@ooma.com
phone: (650) 300-1480
Media
Mike Langberg
Director of Corporate Communications
Ooma, Inc.
email: press@ooma.com
phone: (650) 566-6693