Call Forwarding and Multi-Ring
You're a busy person, and sometimes you simply can't stay home waiting for a phone call. With Ooma's call forwarding options, you don't have to be shackled to your home phone any more! If you're going to be away from home -- whether for a few hours or for a vacation -- you can select the call forwarding option that will let your phone calls come to you no matter where you are.
Table of Contents
You can enable Call Forwarding by logging into your My Ooma account and navigating to the Call Forwarding option under the preferences tab. Your should see a page that is similar to the one pictured below: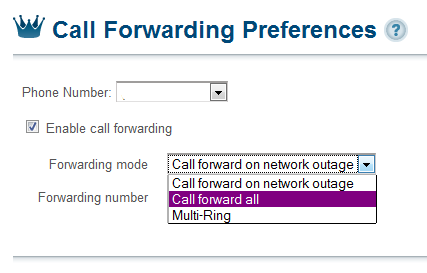 Once you're there, here's how to turn on Call Forwarding:
Check the option to enable Call Forwarding
Select your Forwarding mode from the dropdown menu as shown above
Put the number you want to forward your calls to in the "Forwarding number" field
If you select "Call forward all" or "Multi-Ring," decide whether you want to enable the "Require key press before answering forwarded calls" option.
Once you've followed those steps, you'll be set up and ready to go!
Note: You can forward your phone calls to a landline if you'll be staying in one place for a while and don't need your home phone to ring -- like on vacation!
There are three different options to choose from when you enable Call Forwarding:
Call forward on network outage will only forward an incoming call if your Ooma service is not working (if your Ooma device is powered off or your Internet is out). Your Ooma phone will not ring because your Ooma service is not functional.
Call forwarding will connect an incoming call directly to the number you've specified. Your Ooma phone at home will never ring.
Multi-Ring will ring an incoming call on your Ooma phone at home as well as another phone number you have specified. You can answer the call at either location.
The "Require key press before answering forwarded calls" option give you an added level of flexibility when setting up your call forwarding configuration. When this option is enabled, you won't be connected to the caller until you answer the phone AND press "1" on your phone's key pad. If "1" is not pressed when the call is answered (for example, if your cell phone's voicemail picks up the call), the call will still roll to your Ooma voicemail. In other words, this option will force all forwarded phone calls that you don't answer to go to your Ooma's voicemail. It also ensures that your home phones to still ring if your cell phone has been turned off or is out of coverage.
The Call Forwarding features are only available to Ooma Premier subscribers. You can check your account level by visiting this page. If you're interested in enabling Call Forwarding, why not consider upgrading your account to Ooma Premier? You can learn more about the benefits of upgrading by viewing our Premier overview article.
Whether or not your Ooma voicemail will pick up your phone calls depends on the following:
How you have configured your call-forwarding settings
How quickly the call gets answered on the forwarded number (either by a human or an answering machine)
Which voicemail system the caller will be connected to when no one answers a call on the forwarded phone depends on your call forwarding settings. Please see the table below:
| | | |
| --- | --- | --- |
|   | "Require key press" option ENABLED | "Require key press" option DISABLED |
| Call forwarding on network outage | Voicemail on the forwarded phone number* | Voicemail on the forwarded phone number* |
| Call Forwarding | Ooma Voicemail | Voicemail on the forwarded phone number |
| Multi-Ring | Ooma Voicemail | Depends on which voicemail system answers the call first. You can check your voicemail pickup time in your My Oomaaccount. |
*When "call forwarding on network outage" is selected, the "require key press" option is not displayed.
You can turn Call Forwarding off by unchecking the "Enable call forwarding" box in the call forwarding preferences of your My Ooma account. This disables Call Forwarding while maintaining your previous configuration so you can easily enable it the next time you need to use it.
No, you cannot forward calls to an international number.
If Call Forwarding is not working properly, please check the following to make sure that you have set up the feature properly:
Is Call Forwarding enabled? (Note: Make sure the "Enable call forwarding" box is checked)
Is your forwarding number typed in correctly?
Are you able to receive calls on the phone you are forwarding your calls to?
Is the ringer for the phone you're forwarding calls to turned on?
Are your calls being sent straight to voicemail with Do Not Disturb?
Has your Ooma Premier membership expired? Call forwarding is only available to Ooma Premier subscribers, so you can check your status and renew your account here