Ooma, Inc. (NYSE:OOMA), a smart communications platform for businesses and consumers announced that Ravi Narula, Chief Financial Officer and Matthew Robison, Director of IR and Corporate Development will present at the Midwest IDEAS Investor Conference on Thursday August 30, 2018 at The Gwen in Chicago, IL. Ooma's presentation is scheduled to begin at 1:50 pm CT. The presentation will be webcast live and may be accessed at the conference website, www.IDEASConferences.com , or in the Events & Presentation section of the company's Investors website: https://investors.ooma.com/investors/events-and-presentations/.

About IDEAS Investor Conferences

The mission of the IDEAS Conferences is to provide independent regional venues for quality companies to present their investment merits to an influential audience of investment professionals.  Unlike traditional bank-sponsored events, IDEAS Investor Conferences are "Sponsored BY the Buyside FOR the Buyside" and for the benefit of regional investment communities.  Conference sponsors collectively have more than $200 billion in assets under management and include: Adirondack Research and Management, Allianz Global Investors: NFJ Investment Group, Ariel Investments, Aristotle Capital Boston, Barrow Hanley Mewhinney & Strauss, BMO Global Asset Management, Constitution Research & Management, Inc., Fidelity Investments, First Wilshire Securities Management, Inc., Gamco Investors, Granahan Investment Management, Great Lakes Advisors, Greenbrier Partners Capital Management, LLC, GRT Capital Partners, LLC, Hodges Capital Management, Ironwood Investment Management, Keeley Teton Advisors, Luther King Capital Management, Marble Harbor Investment Counsel, Perritt Capital Management, Punch & Associates, Westwood Holdings Group, Inc., and William Harris Investors.

The IDEAS Investor Conferences are held annually in Boston, Chicago and Dallas and are produced by Three Part Advisors, LLC.  Additional information about the events can be located at www.IDEASconferences.com.

If interested in attending or learning more about the IDEAS conferences, please contact Joe Noyons, (817) 778 -8424, jnoyons@threepa.com.

Ooma, Inc (NYSE:OOMA), a smart communications platform for businesses and consumers, today announced that its Ooma Home smart security solution now includes Amazon Alexa voice commands as well as integration of the Ooma Butterfleye security camera.

Ooma Home (www.ooma.com/home-security/) is an affordable, do-it-yourself smart home security system that makes it easy for anyone to protect and connect with their living space. The Ooma Telo base station plugs into a home's router, and Ooma Home sensors communicate wirelessly with the base station at a distance of up to 150 feet. When the sensors detect activity, they can trigger audio announcements through the Ooma Telo base station and notifications through the free Ooma Home app for iOS and Android.

Ooma Home is the only home security solution offering Remote 911™, where users can connect through their mobile phone from anywhere in the world to reach the local 911 operators for their home address, without the need for expensive professional monitoring.



The new Alexa voice commands make it easy to disarm the piercing 105-decibel Ooma Siren with a verbal command and PIN code, such as by saying "Alexa, ask Ooma to disarm with PIN 1-2-3-4." Ooma Home already offers geofencing, where the system automatically arms or disarms when anyone carrying a mobile device with the Ooma Home app leaves or enters the home. The Alexa command is a backup for users when they don't have their mobile device at hand, or can be used by children or guests who don't have a mobile device with the app. Ooma Home also responds to the Alexa command, "Alexa, ask Ooma to check status." Alexa will then reply with either "All sensors are normal," or list any sensors that have been triggered, such as doors or windows that are open or leak detectors that have come in contact with water.

The AI-powered Ooma Butterfleye camera (www.ooma.com/butterfleye-security-camera/), introduced earlier this year, can now interact with all other Ooma Home sensors through the Ooma Home app, and the app shows the list of video clips recorded by the Butterfleye. For example, if a motion sensor detects activity in the front entryway, a camera in the living room can automatically record a clip to show if an unauthorized person entered the house. Or if a camera hears a loud noise while the Ooma Home app is set to "Away" mode, a siren could automatically start blasting to scare away an intruder.

The easiest way to begin with Ooma Home is the Ooma Home Security Starter Pack, which comes in two versions. At $179.99, the starter pack provides an Ooma Telo base station, two door/window sensors and a motion sensor. At $299.99, the pack also includes an Ooma Butterfleye camera. Self-monitoring through the Ooma Home mobile app is free. The Secure plan, offering advanced features such as Remote 911 and multiple users for the app, costs $5.99 a month (www.ooma.com/home-security/pricing/) with no burdensome contract. As an option, the Ooma Home system can be upgraded to deliver Ooma's #1 rated home phone service (www.ooma.com/telo/).

Ooma Home users can expand their system at any time by purchasing individual sensors. Sensors available now are door/window at $24.99. water leak detector at $29.99, garage door at $29.99, motion at $34.99, siren at $39.99. and the Ooma Butterfleye camera, starting at $199.99. Ooma also expects to offer an Ooma Home smoke alarm by the end of this year, priced at $59.99.

"People are deeply attached to where they live, so it's no surprise they want to keep their homes safe and know what's happening when they're away, including even simple things such as checking on a pet or getting a notification when their children come home from school," said Thad White, vice president of home security products at Ooma. "That's why we made Ooma Home affordable and dead simple to set up. Now anyone, in any type of residence, can have smart home security on their own terms."

Ooma, Inc. (NYSE:OOMA), a smart communications platform for businesses and consumers, announced that it will release its financial results for the second quarter ended July 31, 2018 after the market closes on Tuesday, August 28, 2018. The company will host a conference call and live webcast for analysts and investors at 5:00 p.m. Eastern time on that day. The news release with the financial results will be accessible from the company's website prior to the conference call.

Parties in the United States and Canada can access the call by dialing +1 (833) 233-4456, using conference ID "Ooma Second Quarter." International parties can access the call by dialing +1 (647) 689-4135, using conference ID "Ooma Second Quarter."

The webcast will be accessible on Ooma's investor relations website at http://investors.ooma.com for a period of one year. A telephonic replay of the conference call will be available through Tuesday, September 4, 2018. To access the replay, parties in the United States and Canada should call +1 (800) 585-8367 and use conference code 9357627. International parties should call +1 (416) 621-4642 and use conference code 9357627.  

Conference Schedule Update  

We are pleased to participate in the following conferences in coming weeks.  Please check with conference hosts for further details.
Three Part Advisors IDEAS Conference August 29-30, Chicago, Illinois
ROTH Internet of Things Corporate Access Day September 5, San Francisco, California
2018 Gateway Conference Presented by Liolios September 5-6, San Francisco, Calif.
Ooma, Inc. (NYSE:OOMA), a smart communications platform for businesses and consumers, today announced the Ooma DP1 Wireless Desk Phone for its Ooma Office business customers and Ooma Telo residential customers.  The DP1 is a fully featured two-line phone that can be placed wherever it's needed without requiring a nearby phone jack.

The DP1 for Ooma Office (https://www.ooma.com/office/ooma-dp1-wireless-desk-phone/) or Ooma Telo (https://www.ooma.com/telo/wireless-home-phone/) pairs wirelessly with an Ooma base station using the Digital Enhanced Cordless Telecommunications (DECT 6.0) protocol for a reliable connection at a range of up to 150 feet.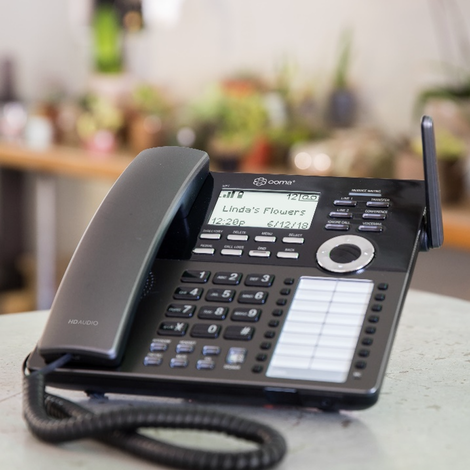 "Whether in a business office, a store, or a home work space, Ooma customers have told us they want the flexibility to have phones wherever they're needed," said Dennis Peng, vice president of product management at Ooma. "The DP1 provides all the features of a high-end desk phone, yet can go anywhere there's an electrical outlet, without having to worry about adding a phone jack or running a phone wire across the room. There's no longer any need to choose between flexibility and functionality in a desk phone – now you can have both."
The DP1's long list of features includes:
Full two-line controls – place calls on hold and switch between calls
Call conferencing – combine separate calls on two lines into one three-way conference call
32 programmable speed dials
Full-duplex speakerphone
Headset jack
Message waiting indicator light
Redial / Call logs
Battery back-up for 36 hours of stand-by time and 7 hours of call time
Ooma Office customers have one-touch access to advanced features such as company directory, music-on-hold, call transfer and send to voicemail
Ooma Telo customers have one-touch access to advanced features such as intercom, send to voicemail and do-not-disturb
Ooma Office (www.ooma.com/office/) gives small and mid-sized businesses a "big company" phone system with advanced features including a virtual receptionist, ring groups, virtual fax, audio conferencing and a mobile app for staying connected while on the road. The cloud-based Ooma Office platform requires no service contracts and works with a company's existing analog phones and fax machines, as well as Ooma-provisioned IP phones.
Ooma Telo (www.ooma.com/telo/ provides unmatched voice quality in home phone service, with unlimited free domestic calling. Premium features include call blocking, call forwarding, and a second phone line and phone number. The Ooma Telo is also the gateway for the Ooma Home (www.ooma.com/home-security/) family of wireless security sensors.
Pricing and availability
The Ooma DP1 is available now from Ooma.com with a manufacturer's suggested retail price of $89.99 ($109.99 in Canada) for Ooma Office (https://www.ooma.com/office/shop-business-phones) and Ooma Telo (https://www.ooma.com/telo/shop-home-phones/). The phone is also available now at Amazon.com, and is expected to be available soon from other select retailers.
Ooma Office
Brochure
The 2-page brochure provides the information you need to know about Ooma Office. Find out how much you can save.
Top 6 Things to Look For When Choosing VoIP Business Phone
Make a smart buying decision on the best VoIP phone service with knowledage of these six top points.