Ooma small business phone system
Ooma Office is a cloud phone system for business that's there 24/7 to answer your calls and ensure your business is always present.
It's packed with advanced business phone features to help run your office with efficiency, all while saving you big money.
All you need is any of our IP phones. Plug it to your high-speed internet, and start calling.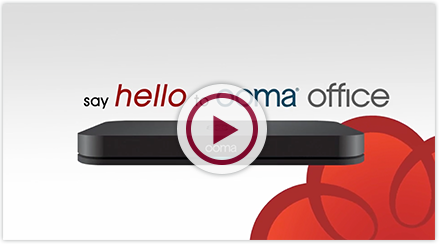 No matter how many users, the Ooma Office monthly cost per user is always $19.95/month. Call 877-959-6662 today!
Ooma business phone setup options
It is easy and flexible. Choose our IP Phones or get our Base Station and use your own phones.
Choose your starter pack: Get Ooma Base Stations and use analog phones OR upgrade to any of the IP phones we support.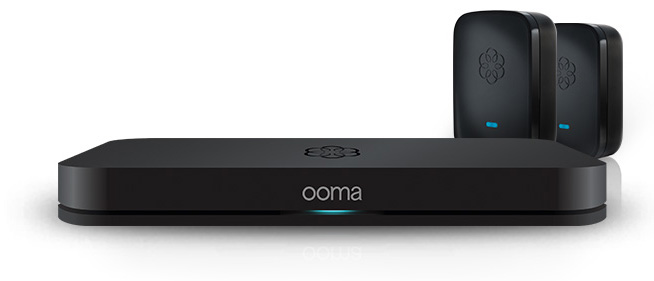 Get our VoIP phone adapter with 2 wireless extensions. It is compatible with any analog phone.
Risk-free 30-day returnFree Shipping
BUY NOW
Front Desk Starter Kit
Comes with:
Yealink T27G Receptionist Phone (1)
Yealink T21P IP Phone (2)
Risk-free 30-day return
Free Shipping
BUY NOW
VoIP Phones & Accessories for Ooma Office.
Call 877-959-6662 to get your discount!
Yealink SIP-T21P E22-Line IP Phone
Yealink's SIP-T21P E2 takes entry-level IP phones to a level never achieved before. It has a 2-port Fast Ethernet switch with PoE (Power over Ethernet) support, an extra-large 132×64-pixel graphical LCD with backlight showing a clear 5-line data display, 2 line keys, 4 soft keys, and a RJ-9 connector for optional headset. It supports up to 4 simultaneous calls.

More »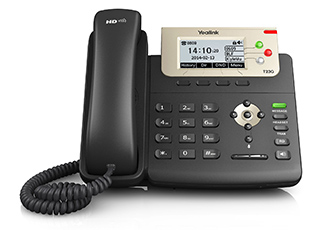 Yealink SIP-T23G IP phone
The Yealink SIP-T23G IP phone makes it easy for people to interact and maximize productivity. Yealink HD technology enables rich, clear and life-like voice communications while still being cost-effective. Great for small and large offices alike, this device can support up to 6 simultaneous calls and also has dual-port gigabit ethernet – perfect for keeping your business communications consistent, professional and clear.

More »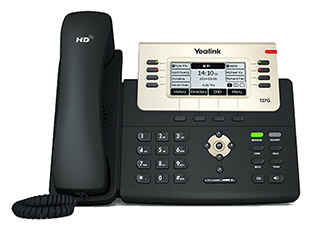 Yealink T27G IP phone
If you run a business with a high volume of business calls, this deluxe office IP phone has everything you'd ever want: superb sound quality, a rich visual experience, and easy-to-use features.

More »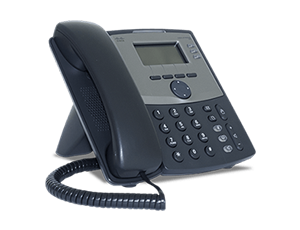 Cisco SPA 3033-Line IP Phone
Cisco's Small Business SPA 303 IP Phone features exceptional voice clarity and enhanced speaker quality. It has a 2-port Fast Ethernet switch, a monochrome LCD display, 3 line keys, 4 soft keys, and a 2.5 mm jack connector for optional headset. It supports up to 6 simultaneous calls.

More »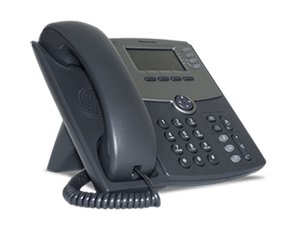 Cisco SPA 504G4-Line IP Phone
Cisco's Small Business SPA 504G IP Phone features exceptional voice clarity and enhanced speaker quality. It has a 2-port Fast Ethernet switch with PoE (Power over Ethernet) support, a monochrome LCD display with backlight, 4 line keys, 4 soft keys, and a 2.5 mm jack connector for optional headset. It supports up to 8 simultaneous calls.

More »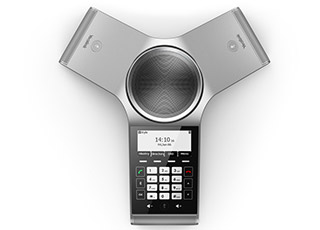 Yealink CP920 IP Conference Phone
The Yealink CP920 IP conference phone is a perfect choice for small and medium-sized conference rooms. The full-duplex and acoustic echo-cancelling technology allows clear and life-like conference calls. With its intuitive user interface and plenty of advanced extras including WiFi, Bluetooth, and Power-over-Ethernet support built in, the CP920 strikes a balance between ease-of-use and powerful features.

More »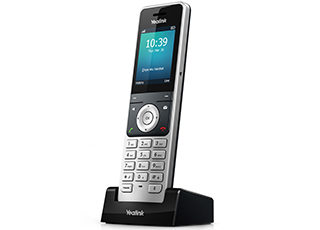 Yealink W56H
Perfect for employees on the move, this phone combines portability and call management capabilities with a sleek design.

More »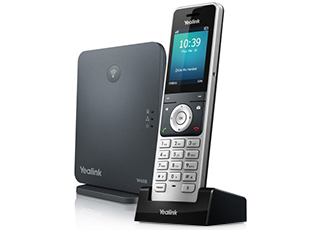 Yealink W60P
This cordless phone delivers a perfect balance of mobility and call management. The phone comes equipped with a Yealink W60P base unit and one Yealink W56H handset. The base unit can support up to 7 additional Yealink W56H handsets – perfect for growing businesses.

More »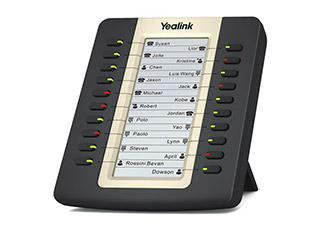 Yealink EXP20 Expansion Module
If you're managing a large amount of business calls on a regular basis, this expansion module is the perfect user-friendly addition to the Yealink T27G IP phone. The device includes 20 additional dual-color programmable buttons that support essential calling functions like speed dialing and call parking.

More »