Yealink T41S VoIP phone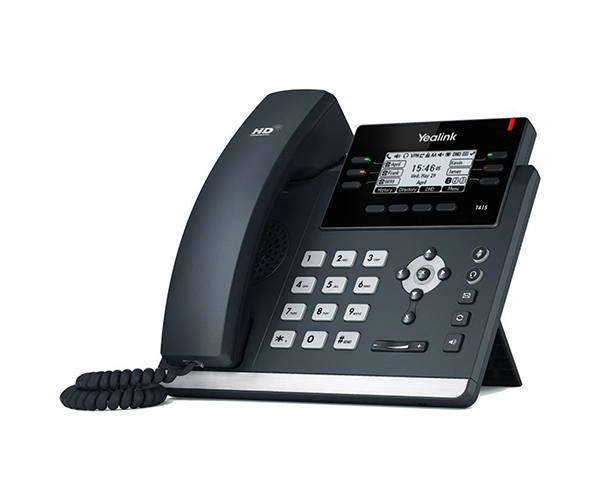 The Yealink T41S gives you all of the features you'd ever need, and even more extended functionality that you might not expect. Packed with a faster and more responsive interface than other VoIP phones, the Yealink T41S delivers crystal-clear voice communications in addition to enhanced Bluetooth and Wi-Fi recording capabilities.
The phone has the same elegant design you'd expect from the T4 line of Yealink products, but with greater interoperability and collaboration tools. HD Voice technology, built-in programmable keys and an all-new USB port are just a few deluxe offerings you can expect from the Yealink T41S. The best part? You can get all of these features and more at an affordable price.
Features supported:
Exceptional voice clarity with the cutting-edge Opus codec
HD speaker voice quality
USB 2.0 port
RJ-9 connector for optional headset
Five programmable buttons for up to 15 functions
Six line keys for up to 12 simultaneous calls
2.7" 192×64-pixel backlit LCD display
Two-port Fast Ethernet switch with PoE (Power of Ethernet) support
Power supply and Ethernet cable included
Get all of the flexibility and functionality you need in a business IP phone without the extra cost. The Yealink T41S is the perfect all-in-one communications solution for your growing business.
Note: Ooma Office only works with IP phones that are purchased directly through Ooma. Our phones comes with everything you will need to get started, including a power adapter. They are also pre-installed with upgraded firmware so that they will register with the Ooma Office network automatically, allowing you to get started quickly and easily.
Risk-free 30-day return.
Existing customers: Login to Office Manager
New customers call: 866-759-8431
Add to Cart
Customize Your Phone System
How many employees will use a phone?
Do you have internet ports (hardwired) everywhere you want a phone?
---
Do you need a separate conference phone?
---
Do you want to connect a physical fax machine?