Yealink T41S DECT Desk VoIP Phone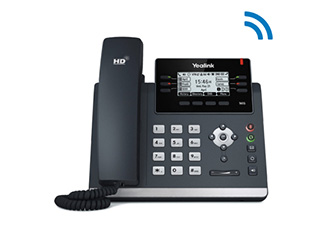 The Yealink T41S DECT Desk IP Phone for business takes all the powerful features of the original T41S and adds the freedom of wireless connectivity with the included DECT receiver. Now you can have the same elegant design of the T4 line of office desk phones with the convenience of wireless connectivity, no longer having to worry about hard-wiring your phone with Ethernet.
The T41S DECT can be deployed within 150 feet of its DECT receiver. Simple setup will get you up and running in no time, and a large LCD display will make it easy to take your calls in crisp and clear HD Voice.
Features supported:
HD speaker quality
2.7" 192×64-pixel backlit LCD display
Supports 2 simultaneous calls
150' range from DECT base unit
RJ-9 connector for optional headset
USB 2.0 port
Yealink DD10K DECT USB dongle
Power supply and Ethernet cable included
Get all the functionality and flexibility of a business IP phone without the extra cost. The office Yealink T41S DECT is a high-end all-in-one communications solution for your growing business.
Note: Ooma Office only works with IP phones that are purchased directly through Ooma. Our phones come with everything you will need to get started, including a power adapter. The phones are also pre-installed with upgraded firmware so they can register with the Ooma Office network automatically, allowing you to get to work quickly and easily.
Risk-free 30-day return.
Existing customers: Login to Office Manager
New customers call: 866-759-8431
Add to Cart
Customize Your Phone System
How many employees will use a phone?
Do you have internet ports (hardwired) everywhere you want a phone?
---
Do you need a separate conference phone?
---
Do you want to connect a physical fax machine?