Call 866-996-1756
Offer Code:

OFFICE_PROMOFS
Test Headline #1
SAVE
$50
---
+ Free Shipping
+ Risk-Free 30-Day Return
Ooma Office Does More
Ooma Office is a cloud system that is there 24/7 to answer your callers and ensure that your business is always present.
It's packed with advanced business phone features that help run your business with efficiency and help you do what you do best, all while saving you big money.
Does more. Costs less. Say hello to Ooma Office!
Typical savings per year with a monthly bill of $
240
Cost of one user ($9.99) and one phone number ($9.99) are included in the savings calculation.
Your total savings after:
Your estimated costs:
Monthly costs
1
phone number(s): $
9.99
1
user(s): $
9.99
---
Total monthly cost: $

19.98
Selected by the readers of PCMag
as the #1 VoIP Provider for Small Business
Get features found in expensive business phone systems
Calling
Unlimited calling in U.S. and Canada
Low international rates
Caller-ID and Name
E911 service
FREE number transfer
Setup
Easy installation
No special wiring required
24/7 customer support
No special phones needed
Office Features
Virtual receptionist
Extension dialing
Voicemail
Call transfer
Modes for business
and after hours
Ring groups
Music on hold
Conference bridge
Manage your settings online
Mobility Features
Mobile App
Call forwarding
Multi-ring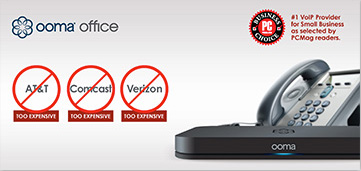 Ooma Office vs. Competitors -
AT&T, Comcast & Verizon
Find out how Ooma Office compares its features and costs to competitors such as AT&T, Comcast and Verizon.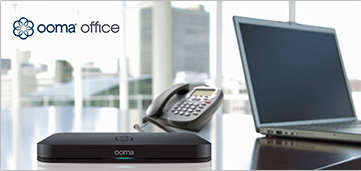 Ooma Office is the best choice for your small business
Learn why Ooma Office is the best suited phone service for your small business based on how it is designed and built.
Companies successfully using Ooma Office
Watch our customer testimonial videos.
Easy do-it-yourself setup
Simply connect Ooma Office base unit to your high-speed modem in front of your router, plug in your phone and you are ready to go.
Additional extensions connect wirelessly using DECT technology so there are no wires to deploy!
Watch this 3 minute video and see
how easy it is to install and configure Ooma Office!
Watch the Video
Business phone service that fits your needs and your budget.
Service starts at only $19.98/mo. and includes one phone number and one user.
Add additional users for only $9.99/mo. more.
Enter your email address below if you are interested to learn more about Ooma Office.
Office FAQs
Can I use my existing phone number?
Yes, for most numbers. There is no cost to port your existing number over. Toll-free numbers are also supported.
Do I need high-speed Internet? How fast?
Yes, you need a broadband Internet connection, such as cable, DSL or fiber-optic. The phone call traffic does not require a lot of bandwidth, so a basic broadband service is fine.
What kinds of phones can I use?
Ooma Office uses standard analog phones. They can be corded or cordless, it does not matter.
How many telephones can I connect?
You can connect up to 20 analog desk phones. One phone connects to the base unit and up to four more connect wirelessly using the Linx devices. Ooma Office typically ships with a base unit and 2 Linx, giving you support for 3 users out of the box. You can add more users with the purchase of additional hardware.
What about busy signals?
No busy signals ever! With Ooma Office you have virtually unlimited lines. There is no need for you to purchase additional lines for rollover!
Can you record your own greeting instead of text-to-voice?
Yes, you can record a custom greeting in your voice, save as an MP3 or WAV file and upload to Ooma Office Manager. You can also skip the Virtual Receptionist and have all incoming calls routed directly to an extension or to a ring group that will ring multiple extensions.
How do I receive and send fax?
All faxes received are automatically forwarded to your email as an attachment and saved in your call logs online. To send faxes online via the Ooma Office Manager, simply attach a file, enter the phone number, and hit send. No need for an expensive fax machine!
Does it support 911 calls?
Yes. When you set up Ooma Office, you will register your physical address so that in case of a 911 emergency call, the authorities know where to go to help you.
What happens if the Internet or power goes out?
Even if your Internet and/or power goes out at your office, Ooma Office will still be up and running in the cloud. Your callers will be able to call your number, navigate through the Virtual Receptionist and leave messages in your voicemail. If you are using a smartphone, you will be able to receive voicemail in real-time (as an email attachment) and call them back using your smartphone, so your business is not disrupted.
How do you transfer a call, or answer a second call?
Ooma Office uses "star codes" using the * key and the numeric keys on your phone as well as the flash button, so it works with any standard analog phone! With star codes you can transfer a call to another extension, transfer a call to voicemail directly, enable and disable call forwarding, or join 2 calls for 3-way calling. Also, Ooma Office uses standard call waiting functionality to answer a second call or put a call on hold using the flash button or the switch hook (hang up).
Can Ooma Office work concurrently with my existing phone system?
Yes. You can add Ooma Office to your current system and enjoy all of the features and benefits.
What if I have more questions?
You can call (877) 959-6662 to speak with a member of our staff.