Inbound call traffic
Our architecture ensures traffic comes directly to the nearest POP from the local carrier. There are several key benefits tied to this:
Guaranteed Call Quality
Our multiple POPs ensure you always get the best-sounding calls no matter from where your call is coming.
Points of Presence (POPs)
Our distributed POPs are located in multiple countries, improving call quality worldwide because it limits the distance that calls have to travel.
Phone Numbers
Inbound numbers are assigned no matter where you are in the world. You can be in your office in LA and service customers on the other side of the world – all while appearing local to them.
Toll-Free Numbers
Because we have a global presence, users can access toll-free numbers in more than 150 countries. This means that your clients in Tokyo can call your Tokyo office toll-free, making communication more convenient for your customers globally.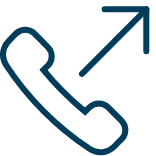 Outbound call traffic
Our platform automatically determines the optimal path in milliseconds and delivers the call along the path of least resistance – that could be in relation to cost, the shortest distance, the most reliable route, or a combination of all three.
Geo-Specific POPs
Points of presence around the world ensures that calls leave our network as close to its intended destination as possible, which reduces your cost and improves voice quality.
Carrier Redundancy
Offering multiple carrier options for call delivery ensures that calls get where they need to go. If an issue occurs with one call, we seamlessly and invisibly route the call to another.
Conference Calls
Multiple POPs also ensure that users' conference calls are clear whenever you are calling any global location.
Practicality Through Innovation
We can design a custom routing plan for a company's specific needs, whether it's routing preference, lowering their phone service costs or ensuring clearer business calls.
Contact Center Platform
The Ooma Enterprise Contact Center Platform, powered by Talkdesk, empowers companies to continuously improve customer experience. With enterprise class performance and consumer-like ease of use, it's time to evolve how you power your customer interactions.
Powered by
Powerfully Simple
Be more productive with an enterprise contact center platform that's easy to implement and easy to use. Setup takes days or weeks, and a modern UI means new users are up and running quickly.
Seamlessly Connected
Deliver personalized customer experiences by leveraging over 50 out-of-the-box integrations including Salesforce and ServiceNow, plus open APIs that enable integration across your entire ecosystem.
Endlessly Adaptable
Satisfy rapidly-changing customer expectations with a nimble platform. Quickly design IVRs, configure routing flows, add agents and provision numbers with clicks, not code.
Deploy Globally
Global, reliable, scalable and secure. The microservices API-driven architecture gives you flexibility to serve your customers anywhere, on any device and through any channel.
Ooma Enterprise Features List
Cloud PBX:
Hosted PBX Service
Auto-Virtual Receptionist
Multi level IVR
Role Based controls
Call reports
Music on-hold
Extension dialing
Dial by name
Call monitoring
Single sign on
Hot desking
Call Management:
Role based rules
Call forwarding
Call recording
Call flip
Call park
Shared lines
Intercom
Call logs
Alerts
Video conferencing
Mobile apps
Internet Fax
Integrations:
Salesforce
Zendesk
Google
Microsoft
Custom
Hardware:
Desk phones
Cordless phones
Conference phones
Headsets
Adaptors








Managing Equipment
Almost the entire process of onboarding and equipment management is done remotely, and when needed, our engineers will come onsite. Here are a few features we offer:
Dual Wan:
Users can connect multiple uplinks to provide instantaneous failover to keep your company online.
Security and Quality:
Our network is protected with traffic shaping and firewalling. Not only does this safeguard the network, but it also ensures that traffic is prioritized.
Metrics Collection:
We collect real-time analytics data to help you predict and troubleshoot potential issues down the road.
LTE Backup:
In a pinch, we can also deploy mobile network connectivity for failover, even during a power outage.
Auto-Provisioned:
Customers can save a lot of time with this feature, as we use "one-touch" provisioning of your onsite device.
Self-Updating:
Ooma Enterprise comes with automatic updates and configuration management service so that you are always up-to-date and running smoothly.


CRM Integrations
More and more companies are leaning on CRMs like Salesforce to help connect the dots between deployments and agents. We make integrations seamless with:
Screen Pops: Know which customer is calling when they call.
Click-to-Dial: Complete more calls in less time.
Call Logging: Get a detailed and accurate view of customer calls.
Call and Screen Transfer: Minimize call handle time between agents.

Instant Messaging
Improve collaboration, enhance productivity and provide immediate communication across the entire enterprise.
API: A full RESTful API means users can complete an action without leaving the messaging app.
Directory/Dept.: Create pre-shared groups within your organization (sales, support, ops, branch operations, etc.)
Encryption: Full end-to- end encryption for all calls, including audio and video streams.
Native Client: Support for Mac, Windows, and Linux gives users more flexibility.
Presence: See when other users are on a call, in a meeting, out of the office, on vacation, etc.
Integrations: With Slack, HipChat and others.
Web Client: Works with any HTML5-supported browser.
Video Support: Between contacts and across platforms.
Mobile Client: Includes support for iOS and Android.
History: Archived history of all messages.


SMS Support includes
API: The full RESTful API makes it easy for developers to write and test applications. It eliminates the hassle of coinciding interconnections with SMS providers.
Stats, Tracking and Reporting: We also provide extensive reporting, including tracking the busiest times, where senders are located, and more.
SMS Relay/Forwarding: We can also act as an SMS relay. Send and receive from an SMS-enabled DID and relay responses to/from another number.
API Relay: We can also relay between 3rd party services like IFTTT, Slack and Hipchat.
SMS to Email: We can also proxy between SMS/email (receive SMS on a DID, email it to somewhere, or receive an email and SMS it to you).
SMS DID's: You can also get SMS-enabled DIDs for most places around the world, and can also port mobile numbers.
Text-to-Speech Relay: We can save speech, and SMS it to you as text, or, when you receive an SMS have it read to you by a call.
Desk Phones
Lastly, but certainly not least, we offer a pre-certified selection of phones. Our recommended phones are tested extensively for functionality, compatibility, call quality, and durability. From a limited feature "common area" phone to a feature rich model for the most demanding user, we have a model to fit your needs.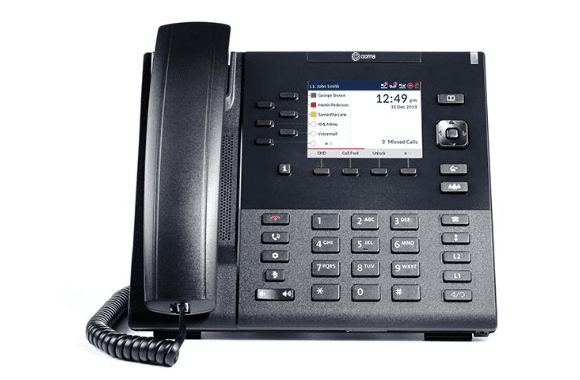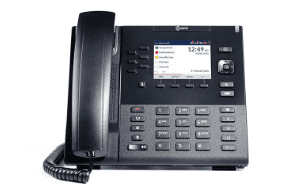 6867
Designed for the enterprise user, this fully-featured desktop phone offers flexibility and reliability for those with heavy phone and network requirements. Support for up to 24 lines when connected to an expansion module, large 3.5" color backlit LCD display, 6 programmable keys, 4 programmable context sensitive keys.
6869
Designed for the power user with heavy demands, this SIP phone is a robust device with maximum functionality. Largest 4.3", 480×272 pixel color backlit LCD display, 12 programmable soft keys, 5 programmable context sensitive keys, Support for up to 24 lines.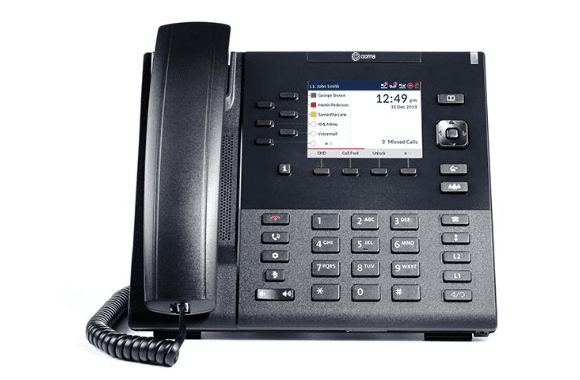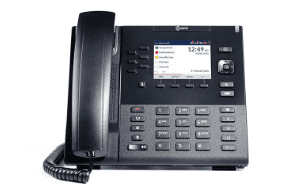 6873
Power users rejoice as the convenience of touch meets flagship functionality in this top-of-the-line SIP phone. Large 7-inch touchscreen color display: 800×480 pixel LCD, touchscreen keyboard with choice of expansion modules, crystal clear HD audio, up to 24 lines with two dedicated line keys with LED.