As a small business, your margins are tight, and the right business tools give you the cutting-edge technology you need without bloating your budget.
Phone service is essential to your business' success, and today's business VoIP transforms a standard utility into a technology, providing cutting-edge features at affordable rates.
Is Ooma Office or Nextiva the right phone service for your small business? The point-by-point comparison below will walk you through the key differences to consider.
Ooma Office vs. Nextiva: Phone Service Basics
Both Ooma and Nextiva provide voice over internet (VoIP) phone service, an alternative to the high cost of a landline PBX. Both Ooma and Nextiva are scalable, providing phone solutions that meet the needs of small businesses through large enterprises. However, there are significant differences between the platforms.
First, consider the service quality and reputation of Ooma.
Ooma Office has been named the #1 VoIP service in PC Magazine's Business Choice Awards for the past six years in a row. In PC Magazine's detailed analysis of user experience, Ooma received a Net Promoter score of 69, meaning that a substantial majority of Ooma's users would recommend the phone service. That's the highest score of all business phone services covered in the survey, and much higher than the industry average of 23.
In contrast, Nextiva tries to be more than phone service, offering a CRM. This prompts the question: does it have the basics of phone service figured out; or, is it merely selling bells and whistles?
According to Fit Small Business, "Users who gave Nextiva a negative review said that they experienced technical problems that were also followed by issues with customer support." In PC Magazine, the only Nextiva product review that we found was for its standalone faxing service. Editors noted, "It is plagued by limitations, slow performance, and a lack of higher-end features." Nextiva CEO Tomas Gorny told Forbes, "Sometimes we've under-invested in our software development team."
Ooma Office vs. Nextiva: Cost
There's a significant cost difference between Ooma Office and Nextiva Basic business phone service, as well as structural plan differences.
First, Nextiva says that "no contracts [are] required," but the company charges up to 20 percent more to avoid getting locked into a plan. Second, Nextiva's service tiers and plan matrices can add complication to selecting your phone service.
On the other hand, Ooma Office offers one low, flat rate for all business customers, and all customers get contract-free service with no hidden fees. In this way, Ooma's approach is similar to Netflix. It's straightforward and affordable.
In most cases, Ooma costs less than Nextiva Basic. For a small business of three users for contract-free phone service, Nextiva would cost 75 percent more. Even if you signed a contract with Nextiva and paid in advance, you'd still be paying 50 percent more.
The per-user monthly rate for Nextiva Basic's contract-free service is $35 for one to four users, $30 for between five and 19 users, and $26 for less than 100 users. In contrast, the contract-free monthly rate for Ooma Office is $19.95 per user.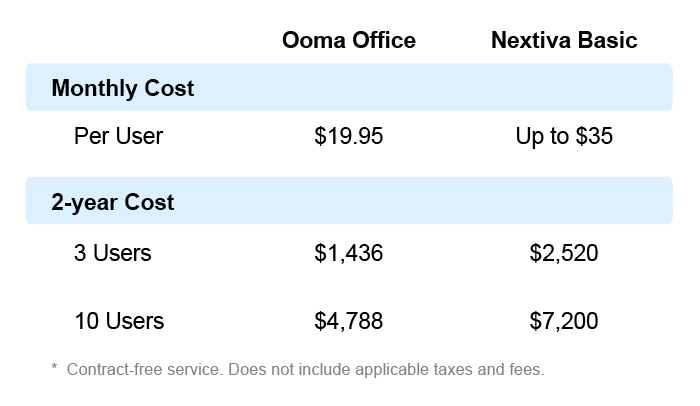 Note that if you do agree to a Nextiva phone contract, ending your phone service would mean that you're still responsible for all charges for the entire commitment period. In some cases, they even charge a disconnection fee!
Businesses working globally could see higher per-minute international rates with Nextiva phone service.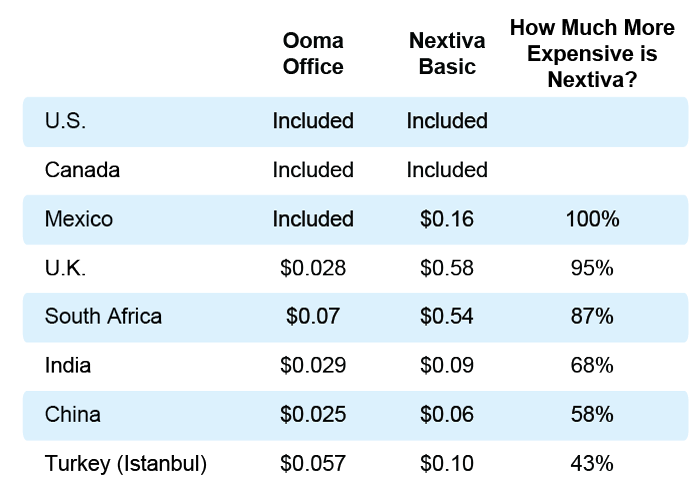 When compared to traditional business phone service, Ooma Office can see savings more than $6,000 for a small business of three users. Use Ooma's savings calculator to see how much you could save.
Ooma Office vs. Nextiva: Features
First, let's consider the essentials of setting up and managing your phone service. Both Ooma Office and Nextiva Basic offer a free local phone number, a free toll-free phone number, and a free number transfer. Additionally, both offer 24/7 customer support so that you can get help any time you need it.
As to communication features, both Ooma Office and Nextiva Basic offer powerful tools such as call automation via a virtual receptionist, call logs, and voicemail audio to email.
In some cases, users would have to upgrade to another Nextiva plan to get the features that are included with Ooma Office. For example, a conference bridge and mobile app are both available to Ooma users, but not available with the Nextiva Basic plan.
A mobile app can have a transformative effect on your business. With the Ooma Office mobile app, all users can make and receive work calls on their cell phone as though they were using their desk phone. Whether you're down the hall at a meeting or you're on the road for a sales call, the cloud-based phone provides flexible connectivity that's essential in today's workforce.
See how the Ooma Office app has helped one small business stay connected no matter where employees are:
Ooma Office vs. Nextiva: Conclusion
For the past six years, Ooma Office has been the #1 VoIP phone service in PC Magazine's Business Choice Awards. Not only has the quality of the phone service captured attention, but it's also an affordable choice. When comparing contract-free service from Ooma Office to Nextiva Basic, a small business with three users would save 75 percent by using Ooma.
Ooma Office is an advanced business phone system that works. In addition, all Ooma users have anywhere access to their office phone via the mobile app. To have this same level of connectivity and flexibility, Nextiva users would have to pay even more.
* As of July 2019