Both Ooma and Vonage are prominent players in the VoIP business phone industry. In fact, both companies have been around for more than 10 years, developing and innovating Voice over Internet Protocol technologies. Since the industry's early beginnings, the evolution of VoIP telephone services has come a long way, and while the industry has evolved overall, phone providers and their peers don't always offer similar service.
While Ooma Office and Vonage for Business do have some similarities in what they offer, there are differences in pricing, features, service, and reliability. Let's look at the aspects of each phone service so you can decide which one is best for your business.
Ooma vs. Vonage – Features
It's likely that you've already done your research to figure out that VoIP phone service is an excellent solution for your business. For example, internet-based phone services such as Ooma Office phone systems and Vonage for Business are more affordable than traditional phone companies, they give you access to a wide set of features, and they provide flexible service tools, such as mobile apps that let you access your work phone even when you're not at your desk.
How do the VoIP companies stack up against one another?
Let's start by looking at Ooma Office. With Ooma, you get a robust set of 35+ business features, such as a virtual receptionist, extension dialing, music on hold, and after hours modes. Ooma also has a mobile app for Apple and Android users, so you can receive calls and messages on your cell phone as though you were in the office. This allows you to maintain professionalism without any explanations for callers to use your personal line, and without ever missing a call. All this is included in Ooma's simple and streamlined business service.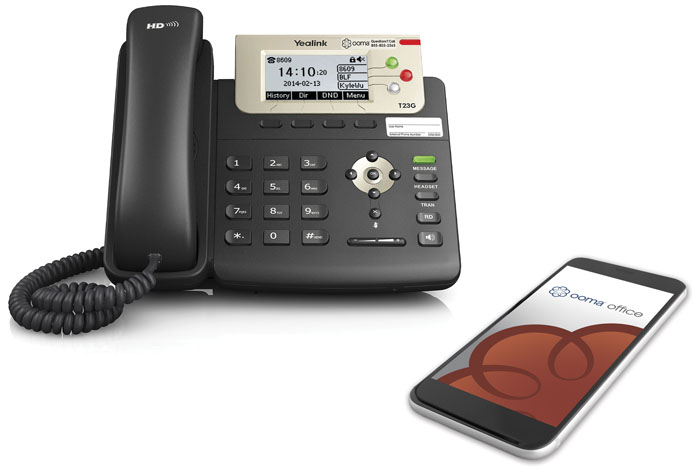 Comparatively, Vonage for Business offers different features included with different plans. Instead of simple and streamlined service, Vonage's plans may not include the features that are standard with Ooma service; they may only be available as add-ons. For example, ring groups, conference bridge, Virtual Fax, and toll-free numbers are all included in Ooma's service, but they're add-ons with some Vonage plans.
However, Vonage offers some features that aren't available with Ooma. For example, Vonage Premium and Advanced plans allow for integration between your phone service and tools such as Salesforce, Zoho, and G Suite.
Ooma vs. Vonage – Service and Quality
In the 2020 Business Choice Awards by PCMag, Ooma was chosen as the #1 VoIP Business Phone service, whereas Vonage came in fourth place. Ooma was ranked as a more reliable service that's easier to use. Additionally, Ooma users are much more likely to recommend the phone service as compared to Vonage users.
Ooma's top ratings aren't a fluke. For the past six years, Ooma Office has been ranked the #1 business phone service while Vonage's service has been ranked in fourth and sixth place in the two previous years.
We think Ooma Office service stands out because of its consistent commitment to innovation, which has resulted in new compression algorithms and traffic prioritization methods that ensure call quality is crisp and clear.
In addition, Business News Daily named Ooma Office as its "pick for the 2018 best business phone system for small offices." The review noted that Ooma's ease of use make it especially useful for startups and small businesses. "The system is simple to install and easy to use. It can be set up by anyone, not just those with IT experience, and running in minutes."
Ooma vs. Vonage – Plans and Costs
When comparing phone plans and costs, we found that Vonage's plans, choices, and add-ons can make it difficult to calculate what the true costs would be and how the costs would change as a business scales its service and its included features changed.
Comparatively, Ooma's service is clear and straightforward. With the full set of features included in Ooma's price, you'll never find yourself paying more than you expected. Plus, scaling your service is easily done without sorting through the features and rates of different service tiers.
As of September 2018, Vonage's cheapest advertised business plan for one to four lines is $19.99 per month per user. However, this plan is for mobile or desktop app users only. For service that allows for a traditional desk phone, rates increase to $29.99 per line per month. These costs are before adding on business features such as a local phone number.
Ooma Office's monthly cost is $19.95 per use, which includes professional service for desk phones or mobile phone via the app. It's scalable, so your phone service can easily change as your business needs do. There's a one-time initial hardware cost for the Ooma Office Base Station, which is currently on sale for $199.99; however, many customers report that Ooma's lower monthly cost adds up to big savings.
For example, the total annual cost for 10 users would be $2,594 with Ooma Office, including the hardware cost. Comparatively, Vonage Premium service that allows desk phones would cost $765 more, and that's before paying for Vonage's add-on features that are included with Ooma.
In comparing the plans and costs for Ooma Office and Vonage for Business, we see that with Ooma Office, it's possible to get higher quality service at a lower cost.
Conclusion
In short, Ooma Office provides phones service at cheaper rates for businesses that want the professional service through a desk phone and mobile app. Vonage does offer integrations that aren't available with Ooma, but for many businesses that don't have the tech infrastructure to accommodate those features, there's no need to pay for something you don't use.
Ooma has consistently been rated as the #1 VoIP service for businesses, compared to the less positive reviews of Vonage's service. In fact, 89% of survey respondents would recommend Ooma Office to a colleague.
In short, Ooma provides high-quality service that's reliable, affordable, and flexible.
*Price and service comparison as of September 2018