Running a business in 2021 requires flexibility and staying in touch with customers and employees wherever they are. There are great alternatives to traditional phone companies like VoIP (Voice over Internet Protocol) phone services. Let's look at how this phone technology works.
Making phone calls through the internet: How VoIP technology works.
Traditional telephone service providers transmit your calls using telephone cables connected to a landline telephone. These services depend on a vast system of telephone wires—millions and millions of telephone wires built over decades. Imagine the cost and effort to maintain those wires. 
Unlike traditional phones, a VoIP service doesn't use the legacy phone systems, but instead transmits your phone calls over the internet. This allows for higher quality HD audio and a wider range of advanced telephone features.
VoIP technology has many advantages, including the capability to be more adaptive to changing trends. Whereas a landline is and always will be a landline, a software update can offer new features to a VoIP system, allowing communications technology to evolve rapidly.
If Ooma and 8×8 are on your VoIP short list, use this post to help you compare the two. You will find out about pricing, key features and some of the factors that make these providers distinct.
Ooma vs. 8×8: Which provider do PC Magazine readers prefer?
PC Magazine surveys readers regarding VoIP business phone service providers each year. In the 2021 Business Choice Awards, Ooma Office was named the best business VoIP phone service for the eighth straight year. 
In their 2021 comparison, PC Magazine's point-by-point review noted that Ooma was the best option in overall satisfaction, technical support and likelihood to recommend. The 2021 and 2020 comparisons did not mention 8×8. The 2019 PC Magazine review found that 8×8 was number three in PC Magazine's overall ranking.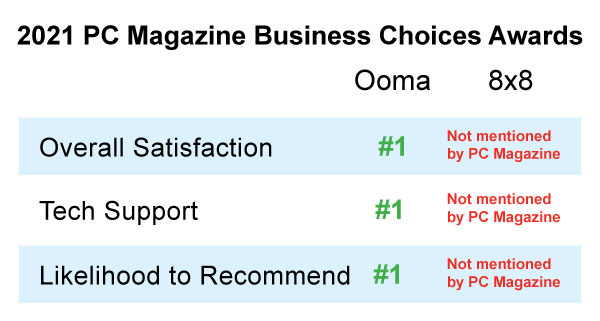 Ooma vs. 8×8: Which is the affordable choice?
Two leading VoIP business phone providers are Ooma Office and 8×8. While both companies have been providing phone service for more than 10 years, there are differences in their offerings.
With Ooma Office Pro, telephone service plans are straightforward. All users get access to all advanced calling features for the low price of $24.95 per month per user (plus taxes and fees).
The comparable 8×8 plan, X2, is priced at $32 per user per month if billed monthly (or $24 per month if billed annually). For a business with five users, the Ooma Office Pro cost would be $124.75 per month vs. $160 per month for 8×8's X2 plan.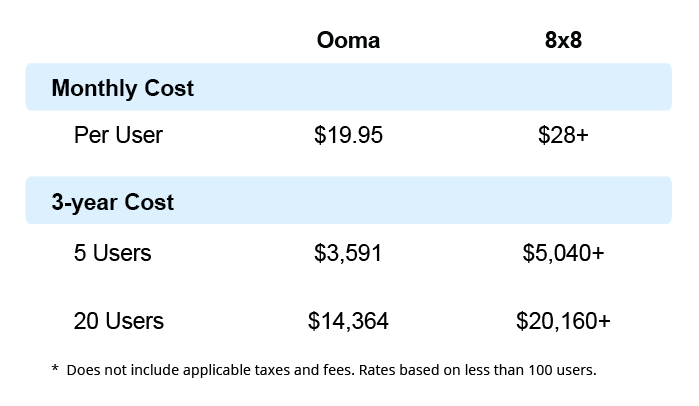 Ooma vs. 8×8: Comparing key productivity features.
The price you pay for a business phone matters, but that factor doesn't provide a full picture. It is also helpful to consider which business phone system gives you more calling flexibility. Ooma and 8×8 share some features. For example, both have the capability to automatically answer calls: Ooma's virtual receptionist and 8×8's auto-attendant. 
By choosing Ooma Office Pro, you receive a powerful communication tool that makes it easier to manage your business.
Video conference calls. Sometimes it is easier to get work done with a video call where you can share your screen. The Ooma Office Pro includes Ooma Meetings, a tool that lets two people share their computer screen at the same time. 
Voicemail to email. Listening to a voicemail recording multiple times to understand the message can be frustrating. Ooma Office Pro has a solution. You can get easy-to-read voicemail transcriptions to save you time.
Call blocking. Imagine you're highly focused on your work and you're making steady progress. Then you suddenly get interrupted by an unwanted call. According to research reported by NPR, it can take up to half an hour to regain your focus. Ooma helps reduce such interruptions with call blocking.
Among the features in 8×8's X2 phone service are the following:  
International calling. The X2 plan offers unlimited calling to 14 countries.
Auto attendant. This feature helps a business automatically respond to incoming calls.
Voicemail transcription. The X2 plan transcribes voicemail messages so they can be read and reviewed.
In addition, 8×8 offers digital integrations. Therefore, if you have the tech infrastructure to accommodate Salesforce, you could benefit from these integrations.
Conclusion.
In comparing Ooma Office to 8×8 for the best phone service for your business, we find that Ooma Office phone service is 20 percent cheaper than 8×8 Virtual Office Pro when paid on a monthly basis. While the features of the two services are comparable, what really sets things apart is the high level of user experience offered by Ooma.
Comparatively, Ooma Office leads in the VoIP industry, being ranked the #1 VoIP provider for the past eight years, according to PC Magazine's Business Choice Awards (read more about choosing a VoIP provider).
Of particular note are Ooma's top scores as a reliable small business phone provider and the likelihood of customers to recommend the service.