Traditional phone companies no longer have a lock on the business phone market. The growing industry of VoIP phone providers (Voice over Internet Protocol) is offering phone service that's higher quality, more flexible, and lower in cost.
Check out how VoIP phone technology works and compare two leading VoIP companies: Ooma and 8×8. Choosing phone service for your business can be a cumbersome task, but we'll explain some key points to make your decision a little easier.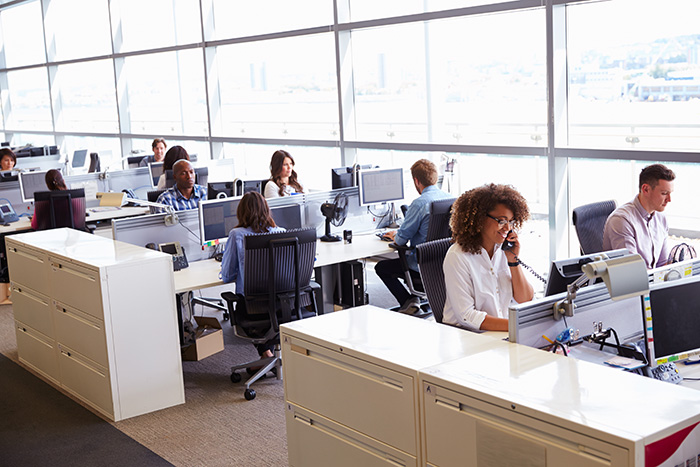 How VoIP Technology Works
Traditional telephone providers transmit your calls using telephone cables connected to a landline telephone. There's little competition in this marketplace, and as a result, the service costs are high.
While traditional providers are using legacy telephone technology that's been around for decades, a new wave of phone providers is leveraging today's internet technologies.
A VoIP service doesn't use the legacy phone systems, but instead transmits your phone calls over the internet. This allows for higher quality HD audio and a wider range of advanced telephone features.
VoIP technology has many advantages, including the capability to be more adaptive to changing trends. Whereas a landline is and always will be a landline, a software update can offer new features to a VoIP system, allowing communications technology to evolve rapidly.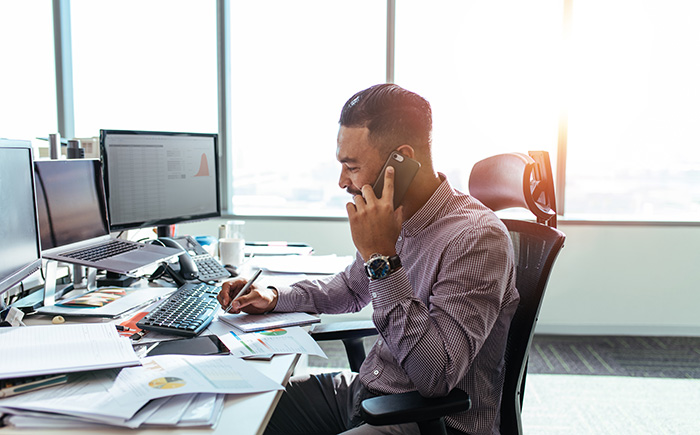 Ooma vs. 8×8 – Phone Quality and Features
For the past six years, PC Magazine has surveyed VoIP business phone service. As of the 2019 Business Choice Awards, Ooma Office has been named the #1 VoIP provider for each of those six years.
In their 2019 comparison, PC Magazine's point-by-point analysis noted that Ooma's overall service reliability, call quality, and ease of use were higher than that of 8×8. Additionally, 58 percent of 8×8 customers needed tech support, compared to only 35 percent of Ooma customers. The third thing that sets the two business phone services apart is the rate at which customers are likely to recommend them. For Ooma, 69 percent of customers are likely to recommend the service, as compared to only 41 percent of 8×8 customers.
Ooma vs. 8×8 – A Comparison of Plans and Costs
Two leading VoIP business phone providers are Ooma Office and 8×8. While both companies have been providing phone service for more than 10 years, there are differences in their offerings.
With Ooma Office, telephone service plans are straightforward. All users get access to all advanced calling features for the low price of $19.95 per month per user (plus taxes and fees). The streamlined service means you can use the features that you want, when you want them, and you don't have to adjust employee phone plans based on how many minutes they spend talking. We know that running your business is complicated enough, so choosing your phone service shouldn't be. With our affordable rates, businesses with three users could save about $6,185 over three years after switching to Ooma Office.
Comparatively, 8×8 provides multiple service plans. While this does offer a high degree of customization, how much time do you really want to spend on perfecting and updating the appropriate phone solution for each employee? While we were unable to find pricing information for 8×8 service on its website, PC Magazine reports that rates begin at $25 per user per month.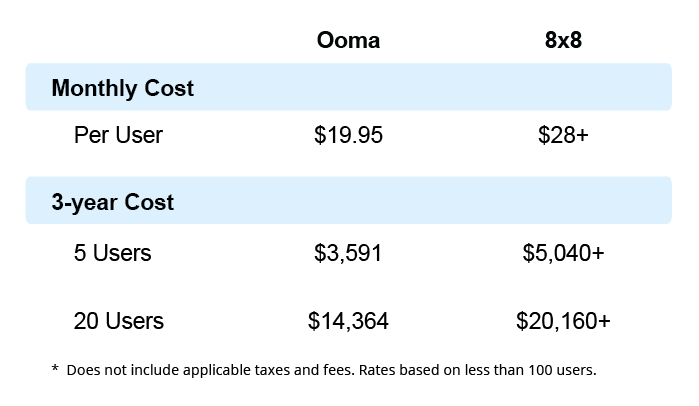 In terms of functionality, Ooma offers a robust set of 35+ advanced calling features. Included is a virtual receptionist to direct calls, extension dialing, ring groups, 911 service, free phone number transfer, call logs, HD Voice, and more. Ooma also offers the Ooma Office mobile app, which lets employees remotely access their work phone system to make and receive calls as though they were in the office. Similarly, 8×8 offers many of the same features.
In addition, 8×8 offers digital integrations. Therefore, if you have the tech infrastructure to accommodate Salesforce, you could benefit from these integrations, but for many other businesses, Ooma's customer-facing, high-quality service is a better value for their business phone service.
Conclusion
In comparing Ooma Office to 8×8 for the best phone service for your business, we find that Ooma Office phone service is priced 20 percent less than 8×8 Virtual Office Pro. While the features of the two services are comparable, what really sets things apart is the high level of user experience offered by Ooma. In its most recent comparison of the two services, PC Magazine reported that the majority of 8×8 users need tech support, and customers reported lower reliability compared to Ooma Office.
Comparatively, Ooma Office leads in the VoIP industry, being ranked as the #1 VoIP provider for the past six years, according to PC Magazine's Business Choice Awards (read more about choosing a VoIP provider).
Of particular note are Ooma's top scores as a reliable small business phone provider and the likelihood of customers to recommend the service.
Learn more about what makes Ooma Office a great choice for your business phone service.