Stay connected to your customers and team from anywhere, on any device.
Save money and never miss a call with Ooma.
GET STARTED
The business phone system that cuts your phone bill in half.
Get everything a small business owner needs in a phone system.
Watch the Ooma Small Business Phone Overview
We've curated over 35 features to create the perfect small business phone solution. From a Virtual Receptionist to help callers find the person or department they want to reach, to mobile or desktop apps that enable you to work from anywhere, Ooma Office and Office Pro help you become more efficient while reducing costs.
Setup is super simple.
We know you're busy, so we make it easy to get started. Ooma Office works right out of the box and you don't need any technical knowledge to set it up. It should take you less than 15 minutes to set up our small business phone system. Even better, you can keep your number or we'll give you a new one – your choice.
SETUP DETAILS
Get your business phone number.
Customize Your Phone System
How many employees will use a phone?
Do you have internet ports (hardwired) everywhere you want a phone?
---
Do you need a separate conference phone?
---
Do you want to connect a physical fax machine?
Business Phone System FAQ's
How much can I save with a small business VoIP phone?
With subscription pricing at $19.95 per user per month (which includes a phone extension), Ooma Office can help small businesses save between 40% to 60% compared to their current provider's monthly per line charge. With Ooma Office there are also no contracts or long-term commitments.
Note: Unlimited calling is included with the Ooma Office subscription fee but monthly taxes and fees still apply due to federal regulations.
Traditional business landlines will typically cost between $40 to $50 per line per month depending on features. We offer unlimited lines with our service, which means callers never get a busy signal no matter how busy you are. At only $19.95 per user per month, cost savings is a primary reason why so many people switch to Ooma Office.
Find out how much your monthly bill will be reduced and how much your taxes and fees will be by checking out the Ooma small business savings calculator.
Can I get a 1-800 number with a small business phone service?
Many small businesses make it a priority to set up a 1-800 number or toll-free number for their customers. Not only does this allow their customers to get more general information about their business and locations, but it also gives business owners a nationwide presence and helps them look more professional.
Setting up a 1-800 number with Ooma Office is simple and straightforward.
How to add a toll-free number with Ooma Office
Follow these instructions to add a toll-free number to your Ooma Office account.
Log into office.ooma.com as an administrator and navigate to the Settings page.
Click Phone Numbers.
Click Add and choose Toll Free Number from the list.
A toll-free phone number has been pre-selected, but you can choose a new one by clicking on the suggested number.
Choose whether you will assign the phone number to an extension or if you will leave it unassigned.
Click Save.
How to add a toll-free calling plan
If you're planning on receiving a lot of toll-free calls, you can also add a toll-free calling plan to your Ooma Office account.
Normally if you are receiving more than 500 minutes per month of incoming toll-free calls, you can subscribe to a calling plan to reduce the cost to your business. Ooma Office currently offers two toll-free calling plans:
$15 per month for 1,000 additional minutes of toll-free number calling (1,500 minutes total per month). Additional minutes are charged at 2.9¢ per minute.
$30 per month for 2,500 additional minutes of toll-free number calling (3,000 minutes total per month). Additional minutes are charged at 2.4¢ per minute.
If you would like to subscribe to one of these plans, you can do so by logging into Ooma Office Manager as an administrator and visiting the Services section of the Store page.
What is a small business office phone system?
VoIP business phone systems use the internet to connect callers with one another. Using Voice Over Internet Protocol (VoIP) technology, telecom providers like Ooma allow business callers to make phone calls from iOS and Android devices using their company's phone number.
As a result, companies get greater flexibility and mobility with their business line that they simply can't find with traditional business landline phones. Even better, you still get all of the features you enjoy from mobile phones - calls, voicemails, messages, and more - but at a fraction of the cost.
Features of Business Phone Systems
One of the biggest features of cloud-based phone systems is a virtual receptionist. You can generate automated voice messages that direct your customers to different departments and locations through one central business phone number. Because business VoIP systems operate in the cloud, it means that your employees can handle business communications from office desk phones as well as mobile phones with ease.
Business phone systems using VoIP offer many other important communication features including:
Conference bridge

Call transfers

Modes for business hours and after hours

Voicemail

Caller-ID

Music on hold

Ring groups, and more.
Advantages of Cloud Phone Systems
Affordability
Compared to the setup costs of traditional landline phones, cloud-based office phone systems are much more cost-effective. There's no need for a professional installation or IT personnel (many cloud systems are DIY), and often no contract or monthly line charge.
Mobile Phone Enabled
With the rise of remote workers, traveling workers, and widespread smartphone use in general, mobility features are a huge selling point for VoIP systems.
Scalable
Cloud-based technology also enables businesses to add extensions for new employees digitally as their company grows. For small and medium sized businesses, this is particularly beneficial because they don't have to pay for an intrusive, expensive installation process.
Easy Setup
Cloud-based business phone systems often have a do-it-yourself setup. Usually all you need is a high-speed internet connection, access to your service's user portal to manage settings and whatever hardware you are using, whether it's a traditional business VoIP phone or smartphone.
Reliable Service
Having great call quality is a must for businesses. VoIP systems can intelligently prioritize voice traffic even during congested network conditions, ensuring that every call you make is crystal-clear despite bandwidth-intensive tasks.
Who Benefits Most from VoIP Office Systems?
Many small businesses have turned to VoIP due to their low cost, easy setup, and ability to scale quickly as their business grows. IT and infrastructure for traditional phone systems can be expensive and time-consuming. Cloud-based systems are also ideal for small businesses because managers can add new employees and use their main business phone number for multiple locations through their mobile devices seamlessly.
To learn more about cloud phone systems or business VoIP, check out our suite of solutions for small businesses and enterprise phone systems at Ooma and watch the customer testimonial below:
How is this small business phone system different from other service providers?
Ooma Office combines the ability to have unlimited lines for your business with an easy do-it-yourself setup and reduced monthly service costs. We offer a full suite of business phone features designed to deliver a great communications experience to inbound callers before, during and after business hours with settings you can control from anywhere.
Our virtual receptionist can help answer frequently asked questions and keep people engaged with your business when you're out of the office or otherwise unavailable. To learn more about Ooma Office features, visit the business phone system page for more information about how our service can streamline your business communication needs.
How do I add more employees to my business phone system?
Ooma Office has an intuitive web portal that allows you to scale as your business grows.
For example, if you had 3 phones in your office and needed to add an additional line for a new hire, you would be able to set up their personal extension through their mobile device and download our award-winning mobile app for business calls. These options allow your new employee to get up and running straight away and could also be an excellent solution for remote workers or employees who travel frequently.
You can also always purchase an additional analog or IP phone from Ooma or purchase your own analog phone at your nearest retailer and add an additional line through your high-speed internet connection.
Learn more about adding phone numbers by visiting our FAQ page.
How do I record a phone call?
Ooma Office Pro users have the ability to record phone calls. Users may need to record phone calls for various business-related reasons, including customer service training, creating a formal record of verbal sales transactions and complying with industry requirements or best practices.
There are two ways to record calls with Ooma Office Pro, and both are simple to use.
First, your account administrator will have to enable call recording for your company once you're subscribed. To do this, they must follow these steps.
Log in to office.ooma.com.
Navigate to the Call Recording tab.
Check the Call Recording button.
From there, administrators can either choose to enable permanent call recording for certain users or encourage on-demand call recording. To enable permanent call recording, which will record all calls a user makes, follow these steps.
Navigate to the Users page and choose the user you want to enable call recording for.
Under the features tab, click the checkbox beside Record Calls.
Click Save.
Permanent call recording is useful for users who are conducting customer service calls, so you can evaluate performance and review possible incidents. However, if you instead have users who need to only record certain calls, like a lawyer or a journalist, Ooma Office Pro makes that simple too.
Note: On-demand call recording only works if permanent call recording is disabled.
To start recording a call, simply press *52 at any time during a call.
o stop recording a call, simply press *53 at any time during a call.
Be sure to check your local city and state laws regarding call recording, as some laws require you to ask permission of the other person on the call before recording starts.
Customer Ratings
Based on 463 reviews
Business VoIP Readers Choice Winner
7 years running.
#1 rated business phone system by PCMag.
When you're running a business, having reliable phone service is paramount. Ooma's cloud-based phone system was rated #1 in reliability by the readers of PC Magazine. Our patented PureVoice HD technology means your customers experience crystal-clear calling every time.
READ REVIEWS
Expands with your business.
Ooma's rich feature set can meet the needs of a business with 2, 20 or 200 employees. We're rooting for you to grow and can expand with you. We don't believe in overpaying for what you don't need, so we can provide personal assistance on choosing the right plan for you.
SEE PLANS
Affordable business phones with dynamic features, and more.
Ooma has been providing high-quality, business-friendly VoIP service for years that doesn't break the bank. For a low monthly rate of $19.95/month, users can enjoy a suite of advanced features like:
A local or toll-free number of your choice
A virtual fax extension
A conference extension
There's no contract or long-term commitment to join, and you can add users as your business grows. Add additional users for only $19.95/month each as your business grows.
GET STARTED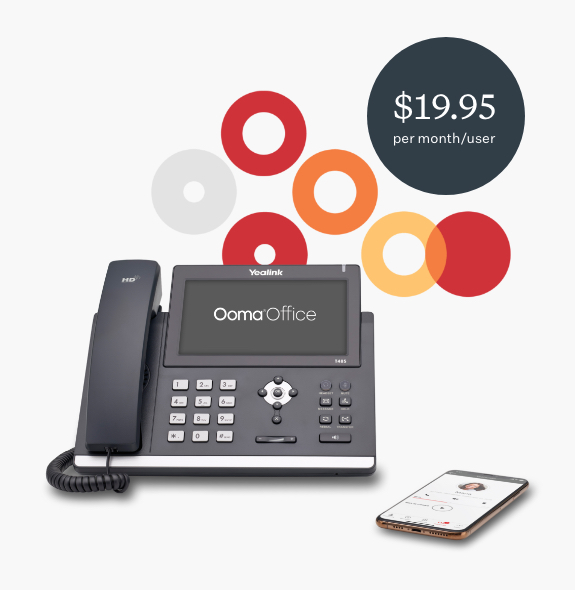 Customize Your Phone System
How many employees will use a phone?
Do you have internet ports (hardwired) everywhere you want a phone?
---
Do you need a separate conference phone?
---
Do you want to connect a physical fax machine?
More about Ooma Office:
Ooma Office Brochure
This two-page brochure provides key information about Ooma Office and answers frequently asked questions.
Join Our Live Webinar
Gain insight about Ooma products and services.