The Ooma Canada home security camera is an intelligent device that's equipped with facial recognition technology, artificial intelligence, automated arming and disarming, and so much more. While these device-specific features are key to high-quality security, remote access tools provide functionality so you can monitor the places you care about the most.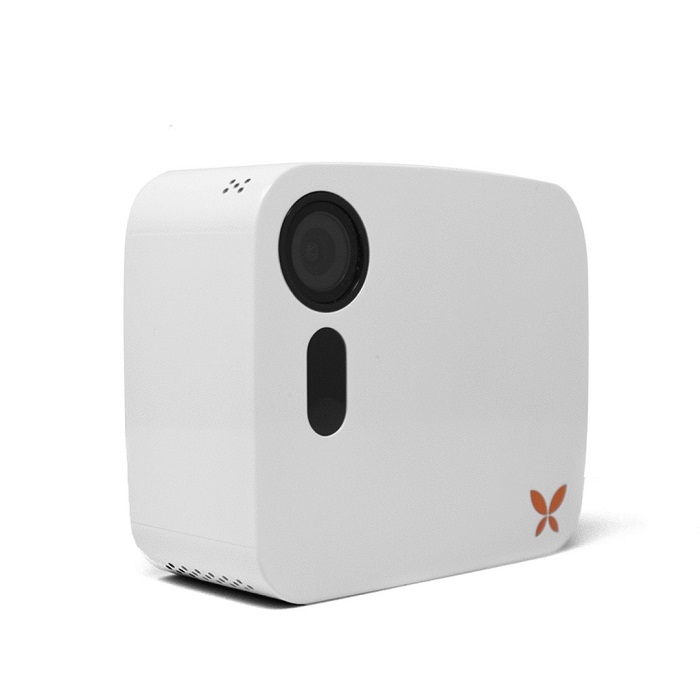 The hardware combined with remote access software work together to provide critical security features so that in an emergency, you can assess the situation and take action fast.
Ooma customers are also using the Ooma Butterfleye security camera in conjunction with the Ooma home security system the type of interactive monitoring tasks that people have grown used to in other areas of this digital age. Whether it's checking in on loved ones or making sure you've shut the garage door, Ooma Home can provide peace of mind.
How Do the Ooma Home and Ooma Butterfleye Apps Work Together?
The Ooma Butterfleye device can be used independently, or it can be networked into your Ooma Home set of smart home security sensors that include motion detectors, door/window sensors, water sensors, and a garage door sensor.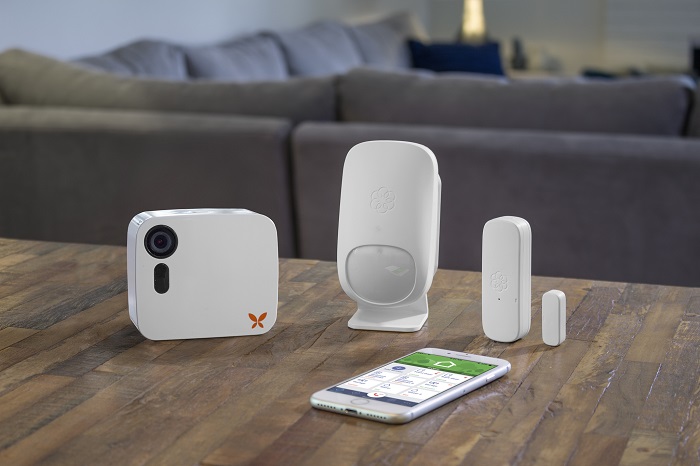 For full functionality when using the Ooma Butterfleye as part of the Ooma Home ecosystem, download both apps for your mobile phone or tablet. From each app, you can access Ooma Butterfleye's live video footage, video clips, and footage log.
To do device-specific tasks such as device setup, pairing, and accessing facial recognition components, you can access tools from the Ooma Butterfleye app (iOS, Android).
With the home security mobile app (iOS, Android), you can do tasks related to your security ecosystem including adding the Ooma Butterfleye as a sensor, receiving notifications, and establishing device triggers. Because Ooma Home is interactive and intelligent, you can establish cross-sensor protocols so that if the motion detector senses activity, for example, the Ooma Butterfleye starts recording.
Security Tools That You Can Access Remotely
Want to know what tools you can use remotely? Let's look at eight key functions.
1. Notifications on Your Mobile Device
Real-time activity notifications will let you know when unexpected activity occurs so you can determine if the source is a friend or a foe.
2. Live Video Feed
Want to check out what's happening at your home? You don't need to get in the car. Instead, access the live video feed right from your mobile device.
3. Timeline of Archived Footage
Your security archive is just a few taps away. It's easy to scroll back through your history to find just the clip you're looking for.
4. Two-way Audio
The two-way audio feature gives you the capability to hear audio from your location and broadcast your voice via the Ooma Butterfleye speaker.
While it's a tool to warn intruders, it's also useful for parents who, after receiving digital notification that their children arrived home from school, can remind them about their chores.
5. Monitoring from Multiple Devices
Households often need access to their home security through more than one device. Use this feature to have monitoring capabilities from your phone and your tablet. This can also allow each household member access to the security system.
6. Download Clips for Permanent Storage or Sharing
Footage from your Ooma Butterfleye can be used beyond the app. For example, if your Ooma Butterfleye captures video of a thief stealing a package delivered to your front door, you can download the clip to share with law enforcement or community groups on social media.
7. Remote 911
The Remote 911 tool gives you an easy way to call for help when there's an emergency. Following a notification alert, users who also have the Ooma Canada internet phone service as a part of their phone or security can automatically be connected to the emergency dispatcher that's local to the device's registered address. Unlike with many other 911 calling services that connect you to a national call center; your call goes to a dispatcher who's more likely to know your exact street.
Additionally, your registered address automatically transmits to the dispatcher to save valuable time during an emergency.
8. Notification Scheduling
Use notification scheduling to customize the hours or days that you'll receive activity alerts. Customers have used this feature to establish times they don't want to be disturbed, and some business customers have limited their notifications to when a business is closed.
Implementing the Advanced Security of the Ooma Butterfleye
After purchasing the Ooma Butterfleye, the Ooma Butterfleye Monitor plan gives you free access to live streaming, video history, instant alerts, cloud storage for up to seven days, and more.
To access the advanced functions of the Ooma Butterfleye, such as facial recognition technology, remote 911 (coming soon), instant video capture, automatic arm/disarm with geofencing, and two-way audio, the Ooma Butterfleye Secure plan costs just $9.99 per month and includes up to 30 days of cloud storage. Secure Plan subscribers can have multiple app users on a single system.
The Ooma Butterfleye Business plan provides even more cloud storage at 90 days for $29.99 per month.
For those who are also using the Ooma Home security system, all users can add an unlimited number of sensors to security system, including up to six Ooma Butterfleye cameras. The Ooma Home Monitor plan is free for all Ooma Telo customers (excluding taxes and fees) and includes sensor notifications, custom modes for Home, Away, Night, and Vacation, audible notifications on your Telo, and much more. For additional functionality, upgrade to the Ooma Home Secure plan for $4.99 per month or less to access features such as automated arm/disarm, scheduled mode switching, Remote 911, and multiple app user access. Plus, notifications are not limited to app alerts and can be sent via phone, SMS, and email.
Learn more about the Ooma Butterfleye smart video camera and the Ooma Home security system to find out how you can get started with smart home security. Read more home security articles.