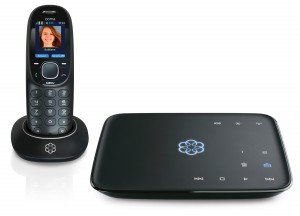 We're excited to announce today at the 2012 International CES® in Las Vegas, Nevada, that we've launched a new cordless handset with HD Voice call clarity and smartphone features made possible by our cloud-enabled platform.
Because Ooma is an Internet-based platform, it allows us to add innovative and useful features more typically associated with a smartphone and blend the mobile and home phone experiences. The new cordless Ooma HD2 Handset features a two-inch color screen and picture caller-ID with the ability to automatically display Facebook profile pictures and online contact lists from Facebook, Google and Yahoo. Ooma will make even more smartphone-like features available to our customers later this year through firmware updates, including customizable ringtones to help identify individuals or groups when calling.
Ooma HD2 handset users who subscribe to Ooma Premier service (optional, $9.99/month) can enjoy even more advanced features such as an Instant Second Line(TM), Multi-Ring to simultaneously ring another phone, three-way conferencing, a second personal number anywhere in the U.S., call screening via the built-in speakerphone, and the ability to send calls directly to voicemail with the touch of a button.
The Ooma HD2 Handset will be available in March 2012 at Ooma.com and select retailers with an M.S.R.P of $59.99.
Update: We're targeting to release the Ooma HD2 Handset in Fall 2012.
The following two tabs change content below.
Latest posts by Team Ooma (see all)