Run Your Business Better
with a Reliable VoIP System
Whether you need a business line with great features or apps to work from anywhere, Ooma makes it super easy to get started with no contracts.
Trusted as an industry leader
Most Recommended for Business VoIP in 2021 Award
My overall experience has been amazing. You get a professional quality phone system with the same exact pricing as our previous analog phone system.
Alexis K
Office Manager, Law Practice
2021 Business Phone Systems Shortlist Award
The Ooma platform has been great for our office. The apps and web portal give us everything we need to have a customized set up.
Robert A.
Owner
Legal Services Business
2023 Business Choice Award for the Best VoIP System (10th year in a row)
The Ooma Business VOIP setup is a cost-effective entry point in my opinion for a small business owner. It was easy-to-setup and overall it's been easy to navigate the functionality that I need.
Chris D.
Small Business President
Advance your team collaboration with
Ooma's all-in-one features
Big Business Features
Virtual receptionist, extension dialing, conferencing, music-on-hold and much more.
Keep Your Number
Transfer your current phone number for free or choose a new local or toll-free number.
Affordable Pricing
Unlimited calling in the U.S. and Canada. Flat-rate price per user, starting at $19.95/month.
Use Mobile Phones
Our FREE Mobile App allows all of your on-the-go workers to use and manage their business phone calls from their smart phone.
Team Collaboration
Video conferencing comes standard with Ooma Office Pro. Simultaneously screen share; no app required.
Easy Setup
Do-it-yourself installation sets up in minutes. If you need help, we're here with 24/7 customer support.
Business phone plans
All three Ooma Office plans begin with more than 50 essential business phone features that empower you to connect seamlessly with customers and co-workers. If your business requires advanced communication features, get more with Ooma Office Pro and Ooma Office Pro Plus.
Ooma Office Essentials
Ooma Office Pro
Ooma Office Pro Plus
50+ Standard Features
●
●
●
Virtual receptionist
●
●
●
Ring groups
●
●
●
Music on hold
●
●
●
One Toll-free Number
●
●
●
Digital Fax
●
●
●
Mobile App
●
●
●
Email Audio Attachments
●
●
●
Desktop App
●
●
Videoconferencing
●
●
Call Recording
●
●
Enhanced Call Blocking
●
●
Voicemail transcription
●
●
Caller Info Match
●
●
Dynamic Caller ID
●
●
Google and Office 365 Integrations
●
●
Call Analytics
●
●
Call Queuing
●
Salesforce Integration
●
Hot Desking
●
Find Me, Follow Me
●
Thank you!
An Ooma Office Sales Representative will be in touch shortly.
866-573-0707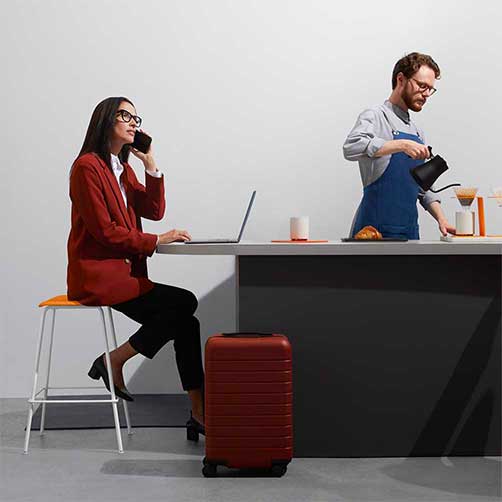 Get your free quote today!
Upgrade to the #1 business phone system. For any business big or small, we can simplify your customer journey.
Get a Quote
Upgrade to a smart business phone for only $19.95 per user/mo.