Ooma Mobile HD FAQ
The Ooma Mobile app lets you make and receive phone calls -- even international calls -- using your Wi-Fi or 3G/4G cellular data connection from supported mobile devices. People will know that it's you calling because the Ooma Mobile app uses the caller ID from your Ooma account, and you'll enjoy the superb quality you've come to expect from Ooma. You'll even connect in HD when you call another Ooma Telo subscriber! Plus, you can save money since you won't use any of your cell's voice minutes when you call. If you need to make international calls on-the-go, then our low rates can really start to add up each month!
Table of Contents
The Ooma Mobile HD app lets you make phone calls, listen to voicemails, and manage your Ooma account on the go with any iOS or Android device. All users can make unlimited domestic calls with the app. Ooma Premier subscribers can make unlimited calls in both the U.S. and Canada, and can also receive phone calls to the app.
The app transmits calls over your device's Wi-Fi or cellular data connection so that you can reduce the number of cell phone minutes you need per month without sacrificing call quality or using lots of bandwidth. Even better, if you're calling another Ooma customer your call will be connected in HD to bring you the most natural and lifelike calling experience available.
Ooma Mobile is currently available for Apple iOS devices such as the iPhone, iPad and iPod Touch that are running iOS 6.1.3 and above. It is also available for Android devices running Android version 4.0 and above..
Note: Some devices such as the iPod touch may require accessories, like a microphone, in order to make phone calls.
After you have made sure your device is compatible, you can get started by downloading the Ooma Mobile application from the Apple iTunes store or the Google Play store.
Once you have downloaded the app, log in using your My Ooma username and password. This is the same username and password you use to log in to the website. If you are logging in to the app for the first time, you may be asked to change to a more secure password.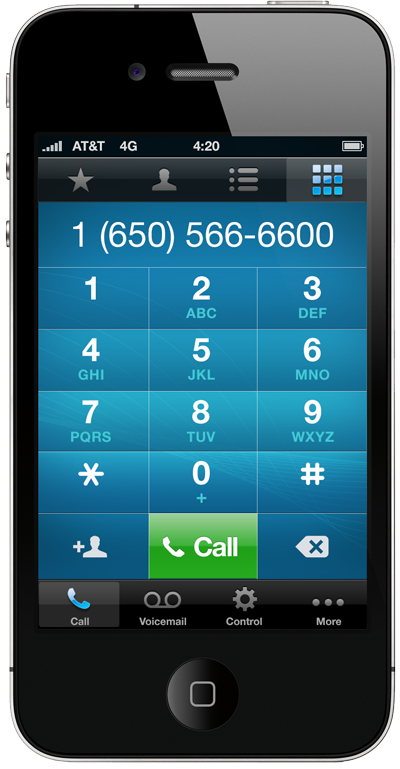 You can make calls with your Ooma Mobile app in several different ways. Switch to the "Call" screen by tapping the Phone icon in the bottom navigation bar. Now tap on different tabs on the top depending on how you want to make the call:
Use the Favorites tab () for quick access to contacts that you have identified as favorites
Use the Contacts tab () to access your phone's contacts list. Select a contact and phone number to place the call
Use the Call Log tab () to see and redial your recently dialed numbers
Use the Keypad tab () to bring up a basic dialer and enter a phone number
Notes about calling from an iPod Touch: The current generation of the iPod Touch has a built-in microphone and can be used as a speakerphone, but this feature is absent in previous generations. If you have an older model of iPod Touch you must use a headset with a microphone to make and receive phone calls.
Notes about calling from an iPad: The iPad does have a built-in microphone, so it can be used as a speakerphone. You can also choose to plug in a headset with a built-in microphone for private conversations.
You can listen to voicemail messages from the Ooma Mobile app by tapping the voicemail icon in the bottom navigation bar. This will take you to your voicemail inbox, where you can listen to and manage your voicemail messages by tapping on them.
You can update the following account preferences directly from your Ooma Mobile app:
Voicemail: Voicemail pickup time and monitoring
Blacklist: Personal and Community blacklist settings
Call Forwarding: Call forwarding and Multiring settings
Privacy: Outbound caller ID and anonymous calling settings
System: 10-digit dialing, call waiting, and timezone preferences
These settings can be reviewed and updated by tapping the My Ooma option in the bottom navigation bar.
To use the app, you will use your Ooma phone number as the username and your My Ooma password. If you cannot remember your My Ooma password, you can reset it by following the instructions in the password reset article.
If you are still having trouble logging in, make sure that your phone has a reliable Wi-Fi or data connection.
All Ooma users can download Ooma Mobile if it is compatible with their mobile device.
The Ooma Mobile app is free for both iOS and Android users.
Calls to any Ooma number are free when you use the Ooma Mobile app, as are calls to U.S. or Canada numbers. By switching your phone calls to Ooma Mobile when you have a Wi-Fi signal or 3G/4G cellular data connection you can reduce the number of voice minutes you need, allowing you to switch to a cheaper cell phone plan with fewer minutes. You can also save money on international calling by taking advantage of our low rates, or by leveraging your Ooma international calling plan.
Ooma Mobile is also a great option when you are traveling abroad. Instead of paying outrageous cellular roaming fees to call home, simply log on to an available Wi-FI network and use the Ooma Mobile app to make your calls. As an added bonus, when you call using the app your Ooma account caller-ID will show up so people will know that it is you calling.
To make an international call with Ooma Mobile, dial "011" followed by the country code and phone number you wish to reach.
Note: Calls to Canada, Puerto Rico, US Virgin Islands and other countries included in the North America Numbering Plan can be made by dialing the number as you normally would, without the 011.
The Ooma Mobile app allows Ooma customers to leverage the same low international calling rates that they get on their home phones when they are calling from their mobile devices. That can translate into a savings of up to 95% compared to the rates charged by cellular providers.
You can check calling rates to any country by visiting our international rates lookup tool.
Ooma customers who are subscribed to an international calling plan can leverage those minutes using the Ooma Mobile app. If you are subscribed to an international bundle, calls to included countries will come out of the pool of minutes for that plan. If you are subscribed to the unlimited international calling plan, then unlimited calls to those countries can be made from Ooma Mobile as well as from your home phone.
Reference: Learn more about our international calling plans.
In addition to making unlimited calls in the U.S. and Canada with the Ooma Mobile app, Ooma Premier subscribers can also receive unlimited calls through the app.
The Ooma Mobile application has PureVoice HD technology built in to deliver the best quality using the lowest amount of bandwidth. When calling over Wi-Fi on a good Internet connection, the call quality will be the same as calls made from your Ooma device. Calls that would connect in High Definition from your Ooma device will also connect in HD via the Ooma Mobile App.
When calling over 3G or 4G, call quality will vary with the quality of your 3G or 4G connection. Calling over a strong cellular signal will sound very good. You can check the quality of your 3G or 4G connection using a bandwidth testing application such as speedtest.net.
Ooma PureVoice HD technology reduces bandwidth usage on phone calls by more than 60% compared to other phone applications. If you have a limited data plan, the lower bandwidth usage means you can talk for a longer period of time without exceeding your monthly usage cap. On average, Ooma Mobile uses around 200KB of bandwidth per minute in each direction (1MB every 5 minutes).
Yes! Whenever possible, your calls will be connected in HD voice. You'll be amazed at the sound quality your cellular phone is capable of delivering! If you'd like to see the difference that HD voice technology can make, you can try any of the following test phone numbers:
1-900-265-1001 (Voicemail lady)
1-900-265-1005 (The Talker)
1-900-265-1007(Ooma radio commercial)
1-900-265-1008 (Piano)
1-900-265-1009 (Bird song)
For more information about HD Voice technology, please see our HD Voice FAQ.
You can add prepaid funds by logging in to My Ooma and purchasing prepaid credit. You may also turn on "auto-recharge" option in My Ooma if you never want to worry about running out of money in your prepaid account again.
Reference: For more information about the auto-recharge feature, you can see our FAQ.
You can manage certain account options from within the Ooma Mobile app on both iOS and Android devices. Simply navigate to the My Ooma tab. You can manage the following options and features:
Voicemail: Change the amount of time your phone rings before calls roll to voicemail. Turn Voicemail Monitoring on and off.
Blacklists: Turn blacklists on and off, and configure how blocked calls are directed.
Call Forwarding: Update your call forwarding settings.
Privacy: Update your privacy settings for outgoing calls. Toggle anonymous call blocking on and off, and configure how anonymous calls are directed.
System: Manage system settings:

Enable 10-digit dialing (dialing without a leading 1).
Turn the call-waiting beep on and off.
Change the time zone your system uses.
The other party will see the main phone number of your Ooma account. It is not possible to connect using any alternate phone numbers from your account.
Yes, Ooma Mobile supports Bluetooth headsets on the iPhone and Android devices. Although the iPod Touch and iPad support Bluetooth, Apple does not currently support the headset profile on these devices, which means that Bluetooth headsets will not work.
Ooma Mobile does not support calling 911. To call 911, you'll need to use your home phone or your cell phone (using your standard mobile carrier).
Reference: For more information about 911 calling with Ooma, please see this FAQ.
No, you must be an owner of an Ooma Hub or Ooma Telo device to use the Ooma Mobile application.
This is not currently supported, but it is on our radar for future development.
Starting with our version 5.0 release for iOS devices and our version 3.0 release for Android devices, Premier subscribers can now receive incoming phone calls through the Ooma Mobile HD app. You can get started by following these steps:
Log in to your My Ooma account and navigate to the Call Forwarding option under the Preferences tab.
Set your Forwarding Mode to "All incoming Calls."
Check "Mobile App" from the list of incoming devices that you can ring. You can also check "Home Phone" if you want incoming calls to continue ringing your home telephone as well as your Ooma Mobile HD app.
Save your changes.
Now incoming phone calls will ring through to your Ooma Mobile HD app.
If the app is running in the background when you receive the call, you will receive a notification alert on the screen that you have an incoming call.